Daybeds are a type of mattress frame with three panels -- two on the ends of the bed and one going down the length. They are designed to be used as sofas during the day and slept on overnight. Daybed construction can vary, and a box-spring foundation is rarely, if ever, necessary.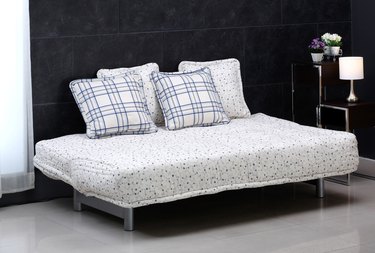 Why a Box Spring Isn't Used
Built-In Shelves and Trundles
The daybed construction may not require a box spring, the reason being that the box spring would raise the height of the mattress too much and make it difficult to use it as a sofa. The space beneath the daybed frame is often built as storage with drawers. A trundle is common beneath the frame as well. A trundle stores an extra mattress beneath the frame and hides it inside the construction with paneling matching the frame design. Since the bed is built for storage or a trundle, it will provide a flat surface platform for the mattress instead of using metal slats like other bed frames. Some daybeds do not have built-ins. Wrought iron daybeds or Victorian-style daybeds will still use a traditional frame and a box spring will be needed to support the mattress and absorb shock.
Link Springs Cradle Mattress
In lieu of a box spring, the daybed may use a special spring design foundation. The link spring on a daybed is a mechanism that attaches to both end panels to provide the necessary foundation. Link springs look like an interwoven metal grid that can provide the space for storage or a trundle beneath the frame while providing adequate support to the mattress. Most daybeds are designed for a twin-size mattress and are constructed with this frame type.
Wooden Slats for Support
An alternative on some daybed designs is the use of slats. Some metal daybeds may have slats welded into the frame instead of the link springs, and some designs may be open to allow the use of your choice of slats. An open-framed daybed can theoretically utilize a box-spring, but it may make the bed high and uncomfortable to use as a sofa. The slats are sold in a degree of quality woods, ranging from cost-effective pine to more durable and flexible woods such as birch.
Size, Support, and Sag
Daybeds don't usually come in sizes bigger than a twin because it will add too much depth to the bed when it's used as a sofa. Daybeds can be constructed in wood, metal or a combination of both materials. When built-ins or link springs are not included, slats or a solid wood board can provide the support needed so that the mattress does not sag. Without a box spring or solid foundation, the mattress will not have a flat surface to lay on and may be damaged. Latex, foam, and hybrid mattresses require a flat, firm bed base such as slats or a solid foundation. If the slats are too far apart, the mattress will not provide even support.