The process of moving a Sleep Number bed is different than moving a standard bed. With a standard bed, merely lifting the mattress and box spring off the frame, dismantling it and carrying the items from place to place is all it takes to complete a move. A Sleep Number bed, however, uses an adjustable air pump and has many parts. Its mattress deflates for easy storage and repackaging. If you recently purchased or own a Sleep Number bed, keep the boxes it came in, as well as the owner's manual. It will be needed to reassemble the bed once it's reached its destination.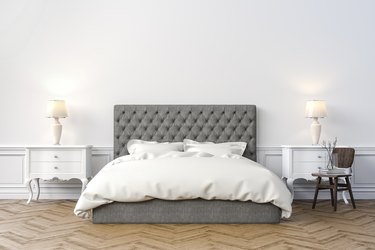 Deflating Your Sleep Number Mattress
Remove bedding from the mattress. To remove the mattress cover, unzip it from zippers located on the bed. If you have a memory foam bed, make sure to check for the hidden zipper at the edge of the mattress. When the cover is removed, place it aside.
Push the gray tab where the hose attaches to the air chamber to disconnect it, then pull the hose away. If there are two air hose connections, repeat the process with the second hose, then remove any internal parts from inside the mattress until you reach the bottom.
Packing the Pump and Mattress
Remove the pump (otherwise known as the Firmness Control System) from the wall and pack it into a box with packing material. The pump is fragile, and caution is needed to keep it from any shock or vibration. Any air chambers should also be placed in a box with packing material to avoid damage.
Before folding the now-flattened mattress and foam comfort pad, double bag both items and box to avoid stains while moving.
Disassembling and Moving Your Sleep Number Base
Depending on what style and size Sleep Number bed you have, there are between two and eight mattress retainers which secure the mattress cover bottom to the base. Loosen hex head bolts with a 7/16-inch socket to pull the cover away from the base.
Remove base decking panels by pushing them to the sides and sliding them off the bed frame, then remove the center support beam. If your base has legs, remove them by unscrewing the wing nuts to detach them from the frame. Then, slide pins from the side rails and support beams to separate them from the base.
Pack all these pieces in boxes to avoid any damage during the move and place hardware and other small parts in a bag so as not to lose them.
After You Move Your Bed
Once your Sleep Number bed reaches its destination, remove the pieces from their packaging and consult your owner's manual to reassemble.
If you have any questions or concerns about moving or reassembling your Sleep Number bed, contact a Sleep Professional via live chat at www.sleepnumber.com or call 1-877-770-5475.