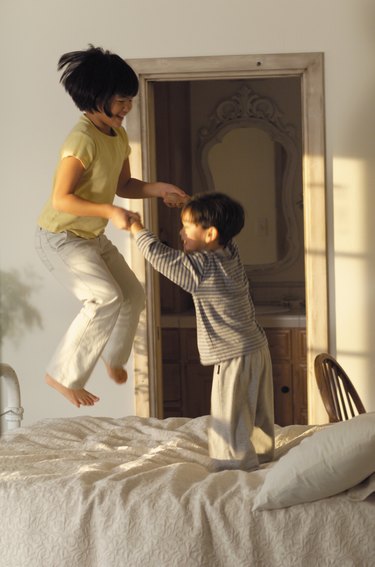 When a bed sags in the middle, determining the reason for the sag will help you to fix the problem. A dip in a mattress does not properly support your body, potentially causing you to bend into uncomfortable positions during the night. A sore back or neck, then, could indicate that your bed is sagging. Consider a temporary or long-lasting fix to remedy the problem. The time and money you choose to invest in the fix will help you select the right option for your bed and budget.
Flipping the Mattress
Regularly turning the top mattress on your bed can prevent uneven wear caused by sleeping in the same spot every night. The book Handy at Home: Tips on Improving Your Home from America's Favorite Handyman by Richard Karn et al., recommends flipping bed mattresses once a week or once every three weeks if they're slept on nightly. Alternate between flipping a mattress horizontally and vertically to ensure even wear on the springs. Even if you flip your mattress only twice a year, as suggested by cleaning expert Thelma Meyer in Mrs. Meyer's Clean Home: No-Nonsense Advice That Will Inspire You to Clean Like the Dickens, you will help to increase the longevity of the mattress. To fix a sagging mattress temporarily, flip it end-over-end and rotate it 180 degrees. This will put the sagging area on the bottom of the mattress until you can replace it.
Using a Bed Board
Bed boards add support to mattresses and are recommended for people with back and joint problems. Instead of purchasing a specialty bed board, insert a piece of plywood between the top mattress and the bottom box springs. This will help to add some support to the mattress, but it should not be a permanent fix for a bed that is severely sagging.
Reinforce the Slats
The slats under the box springs are just pieces of wood, and occasionally they can become damaged, usually from a sudden impact on the bed. Replacing the broken boards or adding more for support is as simple as laying cut boards into place. Remove the mattress and the box spring from the bed to reveal the frame below. Measure the existing boards and cut your own to match with 1-by-4 pieces of solid wood. Insert each of these into the frame between the sides at even intervals along the length of the bed. Replace the mattress and box spring when you are finished.
Buy a New Mattress
Bed mattresses are not meant to last forever. A typical mattress will last about 10 years before it begins to wear out from use. If adding support to the bed does not fix the problem, it might be time for a trip to the mattress store.