The prospect of mattress shopping fills most people with dread. Not only is it a time-consuming process to find the right fit, but the more comfortable your mattress, the more you will need to spend. So when you finally get the perfect investment home, the last thing you'll want is for it to slide off of the frame. How do you ensure your new purchase will be both comfortable and reliable, rather than a nuisance? It's easier than one would think.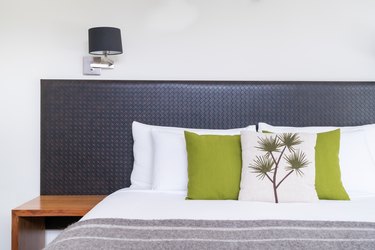 The Pros and Cons Of a Sleep Number Mattress
The reason why people love Sleep Number mattresses is that they are designed to be lightweight. But because of that lightweight design, they may shift off your frame. Of course the simplest solution is to just slide the mattress back in its original space. But after a while, that can become an annoyance. So here are some additional steps that will ensure your mattress stays put so you can get your eight hours of sleep after a late night movie marathon.
Tips to Keep Modular Bases Secure
For modular bases, you have to make sure the base coverlet is right-side out and securely in place. A coverlet is important for your mattress because it's designed to reduce sliding. If that doesn't reduce the sliding and your sleep is still being interrupted, place rug grip material under all four corners of the mattress. This will keep the base from sliding. If you're in the market to splurge, adding a headboard and a foot board to your base also ensures the mattress stays put.
Tips to Keep FlexFit Adjustable Bases Secure
For the most part, your FlexFit base should not move. If it does, make sure the bolts are securely attached to the mattress, the bolts aren't stripped (if they are you can order a new set), the cover isn't torn or damaged around the bolt attachments and the foam isn't shifting in the mattress cover.
Tips to Keep FlexFit Smart Adjustable Bases Secure
The FlexFit model base attaches with magnets. If the mattress is sliding, make sure the magnets are aligned. If the magnets are not secure, grab an extra person and lift the mattress to realign it. If that doesn't work and your mattress is still shifting, call Sleep Number for additional support.
Overall these steps should ensure that your Sleep Number mattress doesn't shift as you sleep, guaranteeing you 40 winks. You'll sleep safe and sound knowing that your investment has paid off.