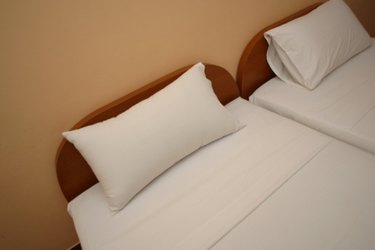 When deciding to purchase a new mattress, keep in mind factors such as material, cost and size. You'll want to buy a mattress that is not only long enough but also wide enough to accommodate you and your partner comfortably. A queen-size mattress is ideal for a couple or someone who wants to have plenty of space to move.
Width
A queen mattress measures 60 inches or 5 feet wide. It offers adequate space for one person to spread out during the night or a couple to sleep comfortably, with 30 inches of space for each person.
Length
The queen-size mattress is 80 inches or 6 feet 8 inches long. It is the same length as the XL twin but longer than regular twin and full-size mattresses, which are 5 inches smaller at 75 inches or 6 feet 3 inches long. The additional length is necessary for taller men and women.
King Width
A king-size mattress is the largest available mattress for both width and length. It measures 76 inches or 6 feet 4 inches wide, giving each person 38 inches of space to move around. The California king is a variation of the king-size mattress, giving each person less space at only 72 inches or 6 feet wide but making up the difference in length.
King Length
The traditional king-size mattress length is the same as the queen at 80 inches or 6 feet 8 inches long. The California king transfers some of the width to the length, measuring 84 inches or 7 feet long. The California king is necessary for someone who is taller than average.