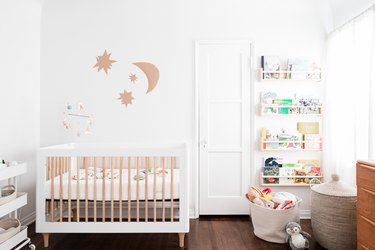 Long gone are the days when parents-to-be purchased a crib that had to be abandoned a few years later when their little tyke was ready for a toddler bed. Modern cribs are often convertible, which means they can be transitioned or converted into a toddler bed as they grow. Then later when your toddler has outgrown the converted crib, you can use parts from the crib to assemble a full-sized bed. For your convenience, you might consider taping the instruction manual to the bottom of the crib, ensuring you'll have access through every stage of your child's growth and development.
Convertible cribs don't look or operate differently from non-convertible cribs, but they usually come with instructions to make the transition from a crib to a toddler bed. Often, this simply involves lowering the crib mattress to its lowest possible setting and removing the front panel of the crib, leaving the remaining three sides. Many don't come with a toddler rail (a short barrier that keeps your tot from rolling over and falling out in the middle of the night), but your crib manufacturer will likely sell one as an additional accessory. It's best to purchase this at the same time you get your crib to avoid the discovery that these parts have been discontinued or hard to find a few years later.
However, once your toddler is ready for a big-kid bed, it's a little more complicated. You're going to need a few more pieces (like a full bed frame and the bed itself), as typically only one side of the crib is usable in a full-size bed configuration. As a full-size mattress is generally around 53 inches wide and the longest rail of a crib is typically 55 inches long, your former crib can make a convenient way to incorporate your child's infant years into their childhood.
Although many convertible cribs only require standard bolts to attach this piece of the crib to the full-sized bed frame where it will function as a headboard, it's still a good idea to read over the requirements and purchase any required conversion kits.
Making the Switch to a Full-Size Bed
You'll need to consult the directions that accompanied your crib model to make the transition to your child's full-size bed. In general, you'll likely be following a simple plan of attack as you transition your toddler bed.
First, disassemble the crib. Follow the instruction manual for this procedure which generally simply involves unscrewing each panel and removing the mattress base, whether this is a spring or a board.
Assemble the full bed frame. Again, follow instructions that came with your frame. In some cases, they are already assembled or are set up for you upon delivery form a mattress store.
Next, attach the large back panel of the crib to the back of the bed frame itself. Often, standard bolts work here. Ensure they fit well and are screwed in firmly.
Add your new box spring or base, and then the mattress. Allowing your child to shop with you for new bedding helps to make this new phase particularly meaningful. Tuck in your sheets, spread your blankets and your new crib-to-full-size-bed conversion is complete.