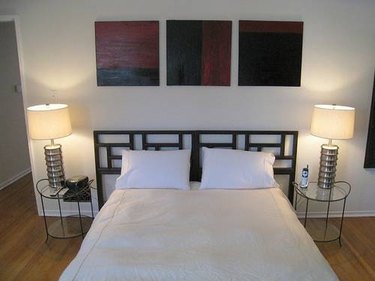 In the olden days, there were only twin beds. Then along came the full-size bed, and then the queen. If you don't want to part with your full-size bed, you can convert it to a queen. The difference in width between a full-size and queen is only six inches, so there will only be a three-inch overhang on both sides.
Step 1
Inspect your bed to see how the frame attaches to the headboard and footboard. Some frames hook onto the headboard and footboard while others use bolts.
Step 2
Decide if you need to install a wood or steel plate to hold any new-sized bolts that will come with your converter frame. If you do, it's best to wait until you have the new frame first so you can make sure the plate can accommodate the new bolts.
Step 3
Purchase some full to queen-size bed converter rails online or at a bedding store. They'll probably come with both hooks and bolts so you can install them either way. An exception is a converter frame that hangs closer to the floor, which probably can only be installed with hooks only.
Step 4
Install any wood or steel plates to your headboard and footboard if needed. Follow the manufacturer's instructions for attaching the converter rails. Slide the L brackets out to accommodate your queen-size box spring. The converter rail length will already be long enough.
Step 5
Adjust the center support leg. Be sure to do this before placing your queen box spring on the frame. Put your queen mattress on top of the box spring and enjoy.