Egress windows are a means of emergency escape from your home. They must be large enough for a human to fit through, plus open wide enough to allow access. There are building codes requiring egress windows on all levels of a home, but the strictest rules concern basement living spaces. As basement conversions become more popular, the building codes for egress windows can help to keep individuals safe in the case of a fire. The basement bedroom window code can and does save lives.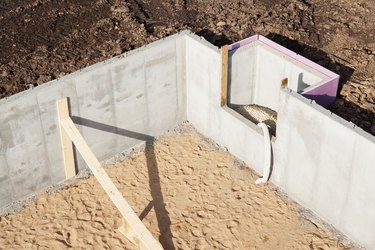 What Are Egress Windows?
An egress window is a window defined by local building codes as large enough for entry and exit of a room in an emergency. Although egress windows are necessary on the first and second floors, the codes are most strict in terms of basement conversions. In the event of a fire, escape from a basement can be extremely difficult, so an egress window is an absolute necessity.
Egress windows in a basement may need to be paired with what's called a window well. These are areas dug into the surrounding outside of the house, to allow for easier access to your window.
Basement Egress Window Codes
An egress window must be at least 24 inches high and 20 inches wide. The window must have a minimum clear net opening of 5.7 square feet. This gives the window enough space for firefighters to enter or leave the building, even if they have equipment on their backs.
The egress window sill height must be no more than 44 inches off the floor. This window height from floor code will allow for easier escape from the basement if necessary.
The depth of the window well must also be no deeper than 44 inches. If the well is deeper, you will need to install steps or a ladder for easy access. This ladder must be permanently attached. The ladder must have 18-inch rungs or at least be 12 inches wide. The ladder must be between 3 and 6 inches from the wall.
A window well must be at least 9 square feet in dimension and have at least a 36-inch horizontal projection.
Egress Window Requirements For Bedrooms
One popular means of basement conversion is creating a basement bedroom. This can really make a house seem bigger and make the best use of the available space.
As with bedrooms on other floors, basement bedrooms all require an egress window. The only reason you may not need to install an egress window in a basement bedroom is if the bedroom exists as part of a more substantial basement living area. If the basement area has an egress window built within the parameter required by building codes, then there may not be a need for a second one in the basement bedroom.
Ohio Specific Egress Window Codes
Ohio's codes for egress windows are the same as the 2009 IRC version, which is the most recent. If you're concerned about whether or not your egress window area code compliant, it may be best to contact your local authority to double check. Before a basement conversion, it is absolutely essential that you make plans for your egress windows and to check these plans with your local authority. Any non-compliant windows mean that not only are you breaking the law, but you could be putting your family or loved ones at significant risk in the case of a fire.
---
Annie Walton Doyle is a freelance writer based in Manchester, UK. Her work has appeared in The Huffington Post, The Daily Telegraph, Professional Photography Magazine, Bustle, Ravishly and more. When not writing, she enjoys pubs, knitting, nature and mysteries.