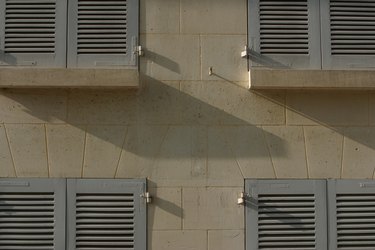 Window sills help drain water and protect windows from rot and other moisture damage. Window sills come in various sizes and dimensions depending on the size of your window frame, architectural requirements and personal preferences. The size of a sill can be measured based on its face, seating, width and height.
Length
The length of a window is the distance between the inside jamb and the jamb of the window face or opening. Jambs are the structural supports situated inside the window framing. Ideally, the length of the window sill should be 1-1/2 to 3 inches longer than the jambs located on both sides of the window face. Some manufacturers also provide charts that provide sill length measurements appropriate for different window widths. For example, window manufacturer Sill-Rite suggests 41-inch window sills for windows 34 inches to 38 inches wide.
Depth
Average depths for manufacturer window sills range from 2 to 8 inches. However, the depth of the sill can be lower or higher depending on custom fittings and your style preferences The thickness of the cavity walling and the depth of the window opening determine the depth appropriate for window sills. Use your measuring tape to measure the distance from the window opening to the wall surface. Round up the final measurement to the nearest full inch to estimate the minimum depth for the window sill. Check with the manufacturer on exact sill depth. Some window sills extend slightly farther than the manufacturer's stated depth to account for overhang.
Height
The height of a window sill is the distance between the top edge of the seating and the bottom edge of the sill that rests along the inner cavity wall. The seating is the flat, elevated portion at the back the sill that spans the length of the installation. Total depth of the window sill includes the seating area. In contrast, the face is located at the very front of the sill and can be measured from the top to the bottom of the sill's front edge. Likewise, the total height of the window sill also comprises the face.
Significance
Proper window sill sizing ensures that insulation around window openings is effective at reducing condensation and heat transfer. Window sill size also impacts how far the sill overhangs the outer leaf, the exterior portion of the building's cavity wall. Depending on the sill's depth, height and width, some styles prevent contact with the window's wood framing. Window sills with narrow faces also allow more masonry to be installed at the back of sill. Moreover, window sills with greater heights are more visible from far distances and bring attention to the window. The depth of a window sill is also important for installing shades, coverings or other accessories that require complete and accurate window measurements.