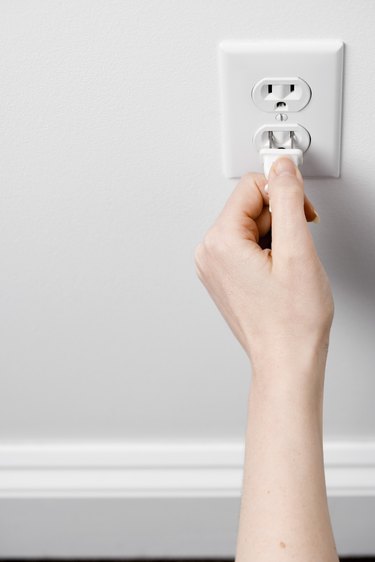 Building inspectors use local and national codes to verify that a home meets electrical requirements during a new build, a renovation project, or when the home undergoes an inspection before it is bought or sold. Canadian and American electrical codes mandate the distance required between electrical outlets in residential rooms. The legislation ensures homeowner safety by requiring sufficient access to electricity in rooms designed for specific uses within the home.
National Electrical Code
The United States National Electrical Code, Section 210.52, states that a receptacle outlet must be placed in every kitchen, bedroom, living room, family room and any other area designated has habitable space. No point, measured along the floor line, can exceed 6 feet from an electrical outlet to reduce the need for hazardous extension cords. These mandated outlets do not include those found in your stove, included in cabinets, located more than 5.5 feet above the floor, or controlled by a wall switch.
Canadian Code
The Canada Mortgage and Housing Corporation indicates that Canadian electrical codes mandate electrical outlets in all finished rooms at intervals no greater than 12 feet apart. Kitchen and bathroom outlets require ground fault interruption (GFI) protection to prevent shocks in areas where water and electricity are in close proximity to one another. Heavy appliances requiring heavy voltage, such as ranges and dryers, must be on separate circuits with heavy-duty outlets. Wiring must be inspected and passed by a certified electrician.
General Circuitry Requirements
The U.S. NEC requires the following minimums: two 20-amp circuits for kitchen receptacles; one 20-amp circuit for the laundry receptacles; one 20-amp circuit for the bathroom receptacles; and one separate, individual branch circuit for central heating and air conditioning equipment. Kitchen receptacles serving countertop appliances require at least two separate 20-amp small appliance branch circuits. Kitchen receptacle outlets must be no more than 24 inches apart measured horizontally along the wall line.
Special Circumstances
The U.S. NEC 210.52 additionally states that any wall space that measures 2 ft. or more in width must have its own installed receptacle. Floor receptacles located more than 18 in. from a wall or receptacles installed near countertop surfaces cannot be used to meet the receptacle requirements for wall space. Wall space includes fixed panels in exterior walls and fixed room dividers. A range hood or above the range microwave must be supplied by its own branch circuit.