Enlarging a garage has many benefits. You can convert it to a living space where you can house aging parents or guests, create an entertainment room or simply finish the space to make room for storing your cars indoors. When starting a project like enlarging your garage, it's important to know that there are a variety of designs to choose from. Before remodeling, always make sure to reach out to local government agencies and your housing authority so that you can acquire building permits, provide architectural drawings and find out more about building regulations in your neighborhood. Most importantly, before you start breaking down walls, sit down and determine why you want to enlarge your garage and decide on a specific design as your goal.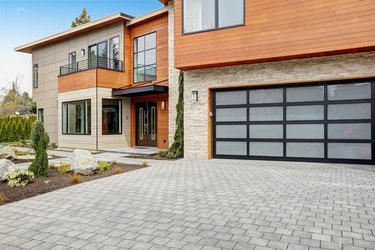 Things to Consider Before Starting
Starting a new DIY project can be exciting, but when it comes to creating more space in your garage, determine how large your budget is. Can you afford to hire a contractor and workers? Do you have the DIY skill set to do the work on your own?
If you use your garage for storage, you may have too much "stuff," so it's time to take stock. Remove everything from your garage and sort it into piles. This helps you figure out what you need versus what you're hoarding. This step can help you visualize the result, and gives you the opportunity to donate or sell what you don't need. For example, you may need a drill, but do you need several different gardening kits?
Once you have cleaned out your garage, get to maximizing the space you do have! You can add vertical storage cabinets, shelving units, bike racks and use peg boards for tool storage. This way you'll be able to open up the floor space and utilize your walls.
Bump Out Addition
If you have determined that you do indeed need to expand your garage's square footage, you might opt to push out one wall. Unlike a house extension, when creating a bump-out addition for your garage, you don't need to use concrete. All you have to do is create a wood-treated foundation and build it like a deck platform. If you have basic carpentry skills, experience building a deck, shed or other structure then this will be a piece of cake. If you don't know how to create a bump out, consulting a professional is the best way to go. Although an easy job, you don't want to create an eyesore on your house, and you want all of your construction to be safe.
Slab Construction and Piers
Pier and beam foundations are footings with concrete bases which support a home's structure. To create a pier or beam foundation to enlarge your garage you need to create a crawlspace beneath the floor. Hire a contractor for this because while a bump out may seem simple to build, it can ruin the entire foundation of your house. Also, your local government will not approve your build if you don't have a licensed technician properly handling this type of build.
The Issue With Frost Footings/Foundation
In colder areas of the United States, frost foundations are necessary to keep the footings of the foundations intact. To create a frost footing your first step will be pouring concrete four feet or more below grade. If you include enough insulation around the foundation, you can keep the soil beneath the house warm enough to permit a shallow excavation.
Complete Demolition
Sometimes it's more cost effective to start from the beginning. If your house is a pre-war build, trying to remodel could be more costly. Visually, a house and a garage should compliment one another. They should have similar exterior doors, windows, roof lines and finishes. Also always remember that the garage should be in scale with the actual size of your home. For these reasons, you may decide to consult an expert. Professionals are trained to know how to make your garage both aesthetically pleasing and structurally sound.