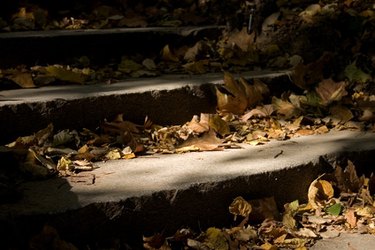 Concrete steps may serve their purpose, but they are not the most attractive looking steps. You can spice up their appearance by adding some wood planks on top of them. The layer of wood you place over the top of the concrete steps can also make them stronger. You must use a hardwood (like pine), though, or you will soon see plenty of wear and tear on the new steps.
Step 1
Examine the concrete steps to ensure they are not too decayed. If the concrete steps are in disrepair, the wood may break along with the concrete steps. Replace the concrete steps if you find them riddled with cracks and other imperfections that may cause them to buckle.
Step 2
Measure the width and the depth of the concrete steps.
Step 3
Cut out a piece of plywood that can cover the length and width of your concrete step. Use plywood that is 5/8 of an inch thick. Cut out several identical pieces to cover all the steps on your stairway.
Step 4
Sand down the sides of the plywood to remove all rough edges and splinters. This will give the edges a cleaner look that is more attractive.
Step 5
Drill two starter holes on each side of every plank of wood. Place them near the four corners of the plank. Drill the holes large enough for your cement bolts to fit securely.
Step 6
Place a plank of plywood on the top stair of the case. Insert cement bolts into each hole of the plank to anchor the wood to the cement step below. Continue installing the plywood in this manner down the entire staircase.
Step 7
Coat the plywood of the top stair with flooring adhesive. Before it has time to dry, start applying the slats of hardwood flooring to the glue surface. Set the wood slats as close to each other as possible until you cover the entire surface of the plywood.
Step 8
Place weights on top of the wood slats to help the glue bond. Leave the weights on for as long as it takes the wood to thoroughly dry. Continue attaching and weighing down the wood slats on all of the steps.