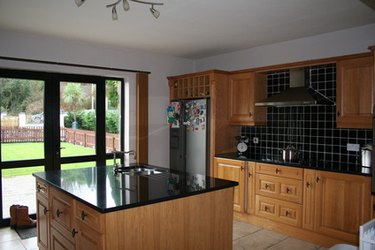 Most small kitchens require a minimum of six upper wall cabinets. Two to three cabinets on either side of the sink on the upper wall provides crucial storage space. That same wall will typically have four or five lower cabinets with room for a dishwasher and small column of drawers for utensils. A detailed drawing will help you figure out how many plywood sheets to buy to construct cabinets. Your goal is to make one trip to the home improvement store to get the basic cabinets in place.
Measure the Kitchen
Make a drawing on graph paper to figure out how much room you have for base cabinets and wall cabinets. If your kitchen is really small, you can create a lot of extra cabinet space by using one wall for floor-to-ceiling cabinets. Instead of placing too many cabinets in the kitchen, however, you can always build a food pantry cabinet in an adjoining hallway or room.
Decide on Door Materials
You will want to use interior-grade ¾-inch plywood in 4-by-8-foot sheets to construct the cabinets. If you wish to build the actual doors from plywood, you will need to include door sizes in how much plywood to purchase. For a nice look, however, it's best to buy pre-made doors. It's difficult to build doors that look professionally constructed from plywood. The cabinets will require only one thickness of plywood.
Take All Dimensions
Stretch a tape measure the length of one section of wall cabinets you will build. You want to cut the most wood possible from the 4-by-8-foot sheets. Cut the sheets so the grain of the plywood runs vertically, not horizontally, on larger sections. Paint should cover the grain of the wood, but it may still show through. You can, for example, cut one sheet of plywood in half to cover cabinet framing 36 to 38 inches high with the grain running north to south. Use wood veneer over the plywood for a professional look.
Use Graph Paper
Draw all component parts of the cabinets you will build on graph paper. Allow one space to equal 4 inches of real space. Your goal in designing all sides, fronts, and openings for drawers and doors is to use every square inch of the actual plywood efficiently without waste. With wood veneer to cover it, it's easier to use every small piece of the plywood. Create patterns for the cabinet sections on tracing paper. Lay the trimmed patterns on the plywood sheets when you're ready to trace outlines and cut.
Figure Sheets to Buy
For base cabinets that run 30 inches deep, 36 inches high and 8 feet long, buy five sheets of plywood. Purchase an additional five sheets for the wall cabinets above the base. These sheets will need to be nailed or glued onto cabinet framing and sanded well before doors are installed. For a more upscale look, you can add rigid vinyl, bead board, wood veneer or metal sheeting over the plywood.