Wide windows unencumbered by curtains bring light into a kitchen, opening the room to the outdoors. Cabinets and appliances can make it hard to open up a kitchen to light. When designing a kitchen for new construction or adding openings during a major remodel, consider floor-to-ceiling windows or ones that rest right at the top of your kitchen counter. Traditional kitchens with a backsplash and window aprons are set the highest.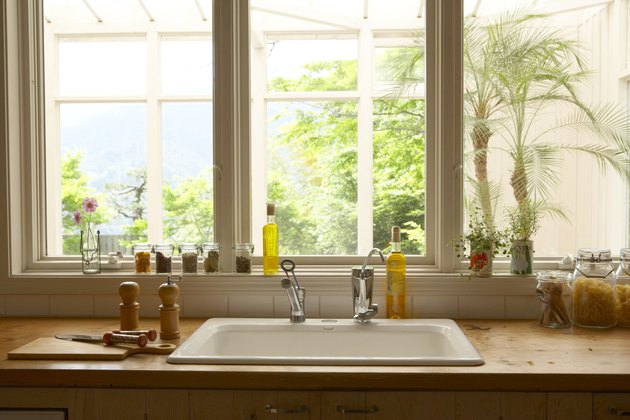 Much of the time in a kitchen is spent at the sink -- washing dishes, rinsing vegetables, filling the teapot. If possible, plan for large windows above your sink. Having windows begin just above the counter creates an illusion that your space and the outdoors are connected. To do this, you will need to know the height of your cabinets -- traditionally 34 1/2 inches -- and the thickness of your countertop -- usually 1 1/2 inches. The window height, therefore, should be set at 37 inches.
Windows Below the Countertop
To create an even smoother transition to the outdoors, drop your window slightly lower than your counter, add a slate windowsill and fill the area with potted plants, all of which will make it look as though the plants are growing up from behind your sink.
Windows Above the Backsplash
If you are planning to add a backsplash behind your counter, you will need to consider the height of the backsplash for window placement. The backsplash usually is at least 4 inches high. If the cabinets are 34 1/2 inches high and the countertop adds 1 1/2 inches, increase the overall number by 4 inches for the backsplash, making the minimum height for your window 41 inches. For a traditional look, with a sill and an apron at the bottom of the window, add another 4 to 6 inches to the height.
Traditionally, windows were placed to match the height of the door frames -- 6 feet 8 inches. Whatever space was available, below that and above the counter, was used as the window area. If you are lucky enough to have the space and a beautiful view, opt for floor-to-ceiling windows to bring the most light into your room. There's no rule that says your windows need to be at the same height as your doors -- and a window that skims the ceiling and floor also gives you the best view possible.