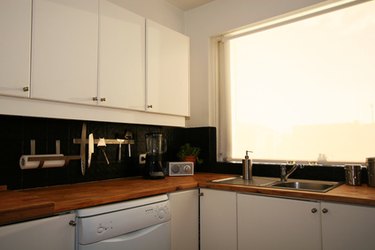 If your kitchen does not include a dishwasher, chances are you have looked into the option of adding one. Once the cabinets are installed, the most logical place to install a dishwasher is at the end of a cabinet run. This type of project will take some time. Follow these steps and the installation will go smoothly.
Preparing the Panel
Step 1
Measure what size the end panel of the dishwasher will need to be with a tape measure. Most base cabinets are 24" deep and 34 1/2" tall. If this is the case, the panel will need to be cut the same measurement.
Step 2
Purchase a wood panel to match your existing cabinets from your local building materials store. The panel should be at least 3/4 inch thick. Mark the panel with a pencil to the appropriate size using a tape measure and a pencil. Cut the panel on the marked line using a circular saw.
Step 3
Sand the front and side of the panel smooth using 180 grit sandpaper. There is no need to sand where the dishwasher will slide into. Stain or paint the panel to match existing cabinetry. Allow the panel to dry before installation.
Installing the panel
Step 1
Mark a line 24 inches away from the base cabinet on the wall and along the floor. This line is where the newly installed panel will sit. Slide the panel into position on the outside of this line to allow a 24 inch space for the dishwasher.
Step 2
Attach two three inch L brackets to the floor where the dishwasher will be installed. One L bracket should be placed two inches away from the back wall and the other 22 inches away from the back wall. These brackets can be attached with 1" grabber screws using a power drill.
Step 3
Attach the opposite end of the L brackets to the panel using a power drill. These will be attached at the same dimension as to the floor: one L bracket should be placed two inches away from the back wall and the other 22 inches away from the back wall. Use 1/2" grabber screws to avoid going through the panel. Confirm the panel is square against the wall; there should be a 24-inch space at the front of the opening and a 24 inch space at the rear.
Step 4
Attach the remaining two L brackets on the top into the counter-top in the same fashion. Screw the top of the L bracket into the counter-top and the other into the panel.
Step 5
Slide the dishwasher into the space.