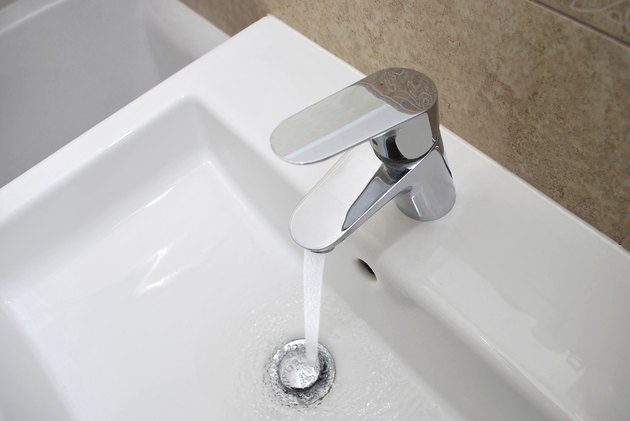 If you gravitate toward shiny things and you're in the market for a kitchen faucet, chrome and stainless steel finishes are good options because they are bright, durable and relatively low-maintenance. The differences between chrome and stainless steel are subtle, and choosing between them ultimately comes down to personal preference and which finish best complements your kitchen sink and appliances. These are popular options when budget is a consideration, as both cost less than nickel and bronze faucets.
Chrome for High Shine
Chrome faucets get their shiny finish from chrome electroplating over another metal. Chrome is shinier than stainless steel, which is great for aesthetics but more challenging to keep clean. Water spots and fingerprints are more noticeable on chrome because they contrast more sharply with the shine of the rest of the faucet. Additionally, abrasive kitchen cleaners may mar chrome's finish over time.
Stainless Steel for Easy Care
Shiny, but less so than chrome, stainless steel faucets are lower-maintenance because they disguise spots and smudges better than chrome. Stainless steel is valued over chrome for its durability and scratch-resistance. Shoppers will find more stainless-steel faucet options from which to choose, as homeowners who need a faucet but don't have an aesthetic preference frequently opt for stainless because of its low cost.
---
Kellye Neuweiler has a journalism degree from Arizona State University and has been a professional writer and editor for more than 20 years. Her experience includes extensive newspaper and magazine writing and editing on topics ranging from sporting goods to environmental issues, dentistry, healthy living, automotive topics and much more.