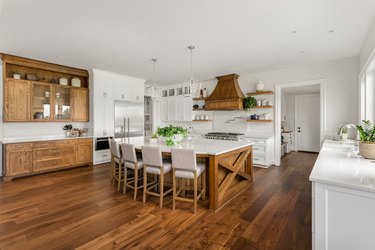 If you are planning to renovate your kitchen and include an island, be sure to consider the footprint of such an installation. Kitchen islands are extremely useful for both prep work and storage, but they tend to take up a good deal of space. Beyond just the space they require for setup is the additional clearance needed around the islands to allow access to counters and cabinets. If you follow general rules of thumb for kitchen islands, you should be able to easily navigate your kitchen and enjoy a comfortable cooking experience.
Tip
The recommended distance between a kitchen counter and a kitchen island is at least 42 inches. If sharing cooking duties, it should be at least 48 inches. Wheelchairs require 60 inches of space.
Spacing Your Kitchen Island
Better Homes and Gardens explains that the recommended distance between a kitchen counter and kitchen island depends on how many cooks your kitchen tends to have. They further explain that the National Kitchen and Bath Association recommends 42 inches of space between islands and cabinets or appliances. If you will be sharing cooking duties with a family member or roommate, you might wish to leave 48 inches instead.
Check the clearance of the appliances you have in your kitchen. How much room does your oven take up when the door is pulled down all of the way? Open all of your cabinets to see how much space you feel you'll need to stand behind them when they are fully opened. Check your refrigerator doors and freezer drawer, if applicable, too.
Use masking tape to mark on the floor of your kitchen where each open door ends and the amount of space you think you need to comfortably move around. Then, browse kitchen islands. Select one that will permit you to fully use the space you need in your kitchen.
Designing an Island for Seating
Dreaming of breakfast or cocktails served at your kitchen island? Better Homes and Gardens suggests 44 inches of space on the side you'll be including seating on. This space is subject to change depending on the chairs or stools you select.
If you opt for narrow barstools, you can probably leave just 44 inches, or maybe even a bit less. If you prefer a larger, more comfortable chair, you'll need to allow a bit more space. Measure any chairs or stools you are considering before making a purchase and use tape to mark the spaces on the floor around your island. This will help you to visualize your choice.
If you need to accommodate a family member or roommate who is in a wheelchair, you should leave at least 60 inches of space around the kitchen island.
Plumbing and Electrical Connections
Some kitchen islands have built-in sinks, stove tops or outlets to power your small appliances. If you are planning to consider an island with these features, you should check where your power and plumbing connections are. Your island will need to be situated so that it can easily reach pipes or junction boxes.
Consult a professional electrician or plumber to help you determine this placement and to hook up your new island. Particularly where both plumbing and electrical work are concerned, you should always defer to a pro — power and water do not mix.
Consider also the lighting above your kitchen island. Kitchens explains that to avoid eye strain and prevent injuries or accidents, you'll need proper lighting in this work area. Adding ceiling lights may require additional electrical connections.
---
Danielle Smyth is a writer and content marketer from upstate New York. She holds a Master of Science in Publishing from Pace University. She owns her own content marketing agency, Wordsmyth Creative Content Marketing (www.wordsmythcontent.com), and she enjoys writing home and DIY articles and blogs for clients in a variety of related industries. She also runs her own lifestyle blog, Sweet Frivolity (www.sweetfrivolity.com).
View Work