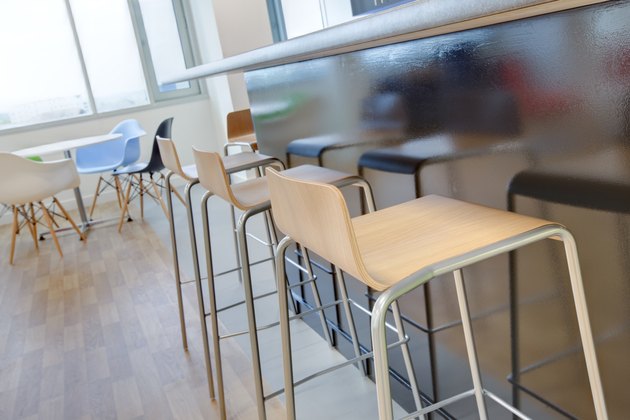 A kitchen island or a countertop peninsula can double as an informal dining area. The usual countertop overhang is 1.5 inches over the front edge of the base cabinet. When using the countertop as a dining area, this overhang will not be enough to allow you to sit close enough to the countertop to dine in comfort. More countertop overhang will provide the knee-room you need.
Ready-Made Components
Standard kitchen base cabinets are usually 24 inches wide, whereas the basic size for kitchen island countertops are 36 inches wide. With a minimum overhang of 1.5 inches on one side, this leaves only 10.5 inches on the other. While this may be adequate for occasional use, you may require a little more knee-room for maximum comfort while seated at the countertop.
Custom-Made Components
Custom-made kitchen cabinets and countertops do not have to comply with standard sizes, especially when constructing an island. An island you will use mainly for dining may be constructed at table-height -- usually 28 to 30 inches high. The overhang for a countertop mounted in this fashion should be 18 inches to allow adequate knee-room when you sit at the countertop in a standard dining chair. For countertops used with a counter-height stool, you need a countertop height of 36 inches. The overhang need not be more than 15 inches on these countertops.
Raised Bar
You can use bar-height stools at a 36-inch high countertop with the addition of a raised deck on the countertop. Brackets made to support the raised deck are available where kitchen countertops are sold. The raised section should be 42 inches to 48 inches high to accommodate the bar stools. An overhang of 12 inches should be adequate in these instances.
Countertop Clearance
Keep in mind how far the edge of your countertop is from appliances or kitchen cabinets to maintain an adequate walkway. The more overhang you add to your island or peninsula, the walkway may shrink an equal distance. The distance between the countertop and other cabinets should be 42 inches. If the overhang on the countertop is across from a refrigerator or stove, you'll want to bump that measurement up to 48 inches to ensure adequate door clearance.
---
Thomas West has been writing professionally since 2002. He earned his M.A. in English at Syracuse University, where he is also pursuing his Ph.D.