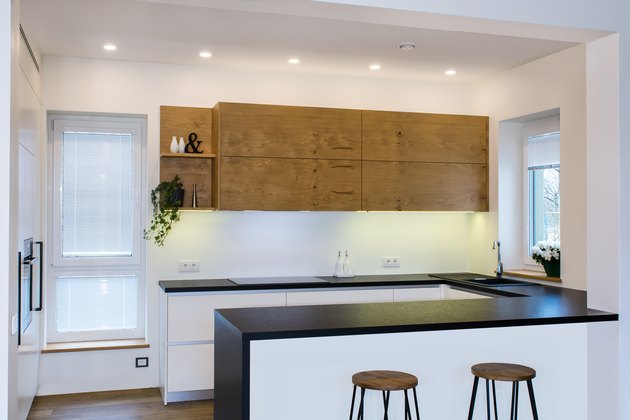 Some companies make their products so well that they set the standard for all competitors going forward. In doing so, consumers will sometimes say their brand name as a catch-all for that product, like calling paper tissues "Kleenex." This is the lot in life for Formica as well, which is actually a brand name for the product called "laminate." As one of the best laminate countertop brands, Formica has made itself a household name.
Tip
Formica is laminate, it's a name brand of a specific manufacturer's laminate product for use on substrate. It may be a different quality or have a better warranty, but Formica is a type of laminate surfacing.
Formica vs. Laminate
Formica is just a maker of laminate, and not all makers are equal in quality. Laminate is merely a smooth veneer applied to surfaces such as medium-density fiberboard or plywood as a finishing touch. The laminate composite used in Formica was invented by Daniel J. O'Conor, who worked at Westinghouse, the company that patented laminate around the start of the 20th century. But whereas they only saw laminate as being a sheeting material, inventor Daniel J. O'Conor had big dreams for the product and started a little competing company called Formica.
Laminate became popular for sewing machine tables in the early 20th century, since fabric would slip right over it and a sewer could just blaze through their projects. By the 1950s, laminate counters were the must-have modern countertop in kitchens and bathrooms across the country. By the end of the '70s, natural products began appealing to people over highly manufactured products like laminate. Marble and granite became popular, but composite counters, like Corian, also increased in popularity.
In the last couple of years, printing technology has made it possible for laminate to have large-scale images and photography to create stunning new surfaces. Today's laminate is a doppelganger for marble, reclaimed lumber, beach sand, granite, cork — you name it.
Not Your Granny's Countertop
The popular show "Home Town" on HGTV has made a big point of giving modern laminate a starring role in their home makeovers. Laminate, it turns out, is one of those few products where price and style intersect, as The Washington Post explains. Décor experts will tell you, if you can afford the real thing like granite or stone, then you should get the real thing, because it may have more appeal when you eventually sell your home.
But if you're renovating on a budget and you're doing the work yourself, laminate can offer tremendous savings. The average home kitchen has between 30 and 60 square feet of countertops. When looking at high-end surfaces like granite and quartz, homeowners can expect to pay $40 to $100 or more per square foot, whereas laminate can be far cheaper. And, surprisingly, today's laminate might look just like the real thing.
High-definition laminate countertops versus granite or marble or quartz can be shockingly close in appearance. Formica's 180fx reviews show that homeowners love the savings they get versus the look the product delivers. In the Home Depot reviews, one woman raved about her quartz-like counters, saying her estimates had been over $8,000 for quartz but her 180fx quartz-mimicking laminate surfaces came in at under $2,000. Wilsonart is another brand making great high-definition countertops, and there are more besides.
Affordable, Beautiful and Tough
Today's laminate hits all the modern homeowner's needs — it's built to last, it's rated "excellent" for heat resistance, it's affordable and now it looks better than ever. Most real estate agents agree, it's less about what you use for your countertop versus how you keep it looking. So, why not get yourself a beautiful countertop and save some money while you're doing it? Maybe the savings can help you tick something else off your wish list, like some new bikes or a comfy new sofa.
---
Steffani Cameron is the daughter of a realtor and interior decorator mother and a home contractor father. Steffani is a professional writer with over five years' experience writing about the home for BuildDirect and Bob Vila. Raised with a mad love for decorating, Steffani gave up her Art Deco apartment to travel and work remotely for five years. She's in love with experiencing traditional decor around the world, including stays in Thai teak plantations on the Mekong River and cave homes in Turkey.
View Work