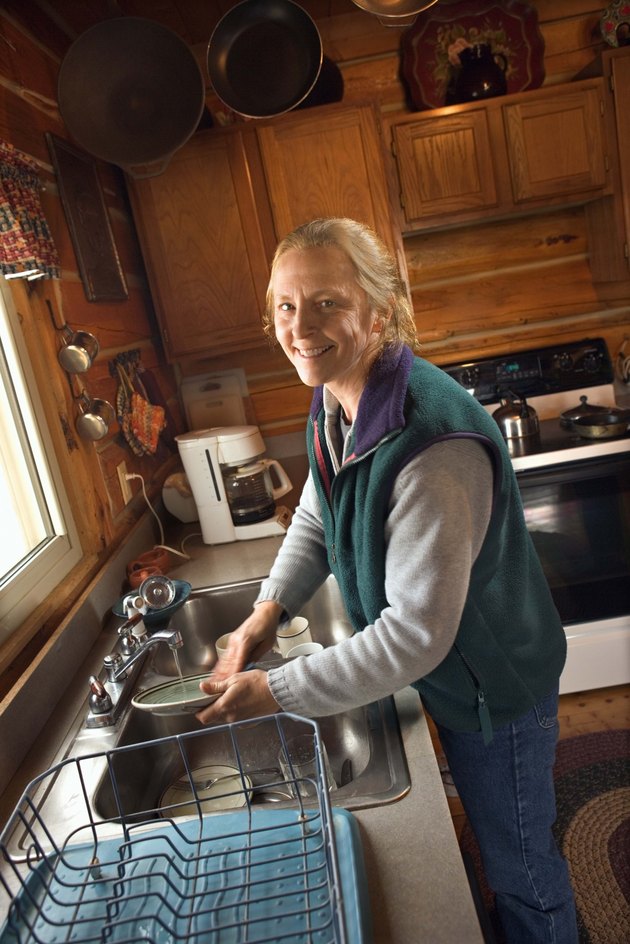 Custom-sized fixtures come at a premium, so it's important to know the standard dimension for things like a double bowl kitchen sink before you accidentally lock yourself into an expensive personalized option. Double bowl kitchen sinks come in a few standard sizes in so you can match one to your space and needs.
General Information
Double bowl kitchen sinks come in several sizes that are readily available. The size of kitchen sink you will need is dictated by the size of your kitchen cabinets and counters. Standard kitchen sink cabinets are 36 inches long and 24 inches wide.
Standard Width
The standard width for a double bowl sink is 22 inches. However, double bowl kitchen sinks can be as wide as 48 inches. The bowls can be equal size or the sink can consist of one basin that is several inches wider than the other basin.
Standard Depth
The standard depth for a double bowl kitchen sink is 8 inches. Nine and 10-inch sinks are also available. Opt for a deeper sink if you frequently entertain or anticipate cleaning large pots or platters.
Standard Length
Double basin kitchen sinks are available in a variety of lengths. A standard length is 33 inches. Thirty-six inch sinks are also common.
Considerations
Farmhouse sinks supply several more inches of depth and width. A self-rimming mount has part of the sink's material on top of the counter, making it slightly wider than other mounting options. An under-mount sink's surface is below the height of the countertop, freeing up a little bit of counter space. The size of the kitchen you have can also help you decide on a double bowl sink that is proportionate to the space. In fact, the National Kitchen and Bath Association does not recommend a double bowl sink for spaces less than 150 square feet. If you want a double bowl kitchen sink, but you live in a small apartment or other small space, apartment-sized double bowl kitchen sinks are available. These sinks have a similar width but the length is several inches shorter than the standard double bowl kitchen sink.
---
Samantha Kemp is a lawyer for a general practice firm. She has been writing professionally since 2009. Her articles focus on legal issues, personal finance, business and education. Kemp acquired her JD from the University of Arkansas School of Law. She also has degrees in economics and business and teaching.