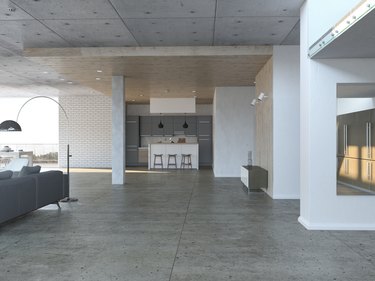 Most concrete stained floors, however well-maintained, will begin to show signs of wear eventually. Whether its an unevenness in the tone of the floor, dullness in color or a lack of shine, your concrete stained floors may need to be refinished. This is a job that's popular to outsource to contractors because it often involves a lot of chemicals, but refinishing concrete floors is a project you can do yourself with the right tools and equipment.
Refinishing Concrete Floors
Typically, concrete floors that have been painted will need to be refinished more quickly than those that have been stained. This is because the paint isn't as durable as a stain. Unlike stain, paint isn't absorbed into the concrete but instead sits like a thin layer on top of it. This means it's likely to chip and crack, requiring either a relaxed approach to a chipped floor or the refinishing process.
By contrast, a stain is absorbed into the porous surface of a concrete floor. Whether it's water or acid-based, concrete stain colors are absorbed into the concrete and therefore are durable, longer-lasting and less prone to chipping, scratches and signs of wear.
However, especially in areas with heavy foot traffic like offices, restaurants and homes with pets and children, even the most durable concrete stain will eventually need a refresher. Fortunately, it's easy to refinish the surface by restaining.
Concrete Stain Colors
Once you've stained concrete, it's tough to change the color since the stain is absorbed into the concrete. Trying to put a lighter stain over a dark stain, for example, won't yield the results you're looking for. However, if you were hoping to refinish the floors simply by restaining them the same color you had originally used, you can do that with little stress.
First, clear out all the furniture, rugs, decor and lighting from the room so there's nothing on the floor. If you're working with an acid-based stain, you'll need to open as many windows as possible and wear protective eyewear and gloves to avoid inhaling harsh chemicals.
Then, clean the floor of any dirt, debris and particles. Once the floor is clean, you can begin to evenly spray the stain over the floor. Have someone follow behind you with a rubber broom and work the stain into the floor. This will allow it to penetrate the surface and keep the stain looking better for longer. Allow the stain to dry according to the manufacturer's instructions before applying a second coat.
Floor Sealant
Whether your refinishing concrete floors with stain or painting concrete floors inside a house, you'll want to add a sealant to increase the durability and longevity of your floors. Sealant adds shine and prevents the stain you so painstakingly applied from being damaged by any additional stain or dulled by wear and tear. The sealant also makes concrete floors easier to clean if you choose the right one.
Begin the process of sealing by cleaning the surface of the concrete with a soft-bristled broom to remove any dirt, dust or grit that may have accumulated on the surface of the floor. Open the windows and turn on any overhead fans to rid the space of toxic fumes that may develop during the sealing process. Once the floor is clear, apply the sealant in a thin coat using a large brush or roller according to the manufacturer's instructions. A bigger roller may be necessary if you have a large floor. Allow the sealant to dry between coats.