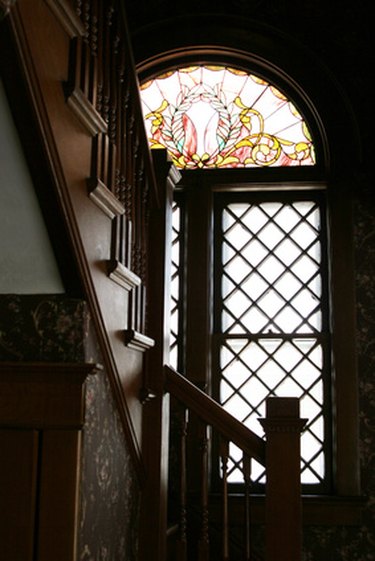 Florida's residential stair requirements are similar to the stair requirements for all other states. For residential stairs, the code specifies the minimum stair head height, stair width and landing dimensions, as well as the maximum size of risers, treads and handrails. Following the code is important for the safety of the house's occupants because most home injuries occur on the stairs.
Stairway Requirements
A residential stairway in Florida must have a minimum head height of 6 feet 8 inches and a minimum width of 3 feet. Exterior stairs must have lighting at the stair's top landing while interior stairs require lighting at the top and bottom of the stairs. Stairs may not have risers greater in height than 7-3/4 inches or treads less than 10 inches. Risers must be at least 4 inches in height, and the stair nosing must be between 3/4 and 1-1/4 inches. Stair treads cannot slope more than 1/4 inch from the back of the stair to the nosing.
Handrail Requirements
Handrails must be 34 to 38 inches above the nosing, and they must resist a 200 lb. point load in any direction. The handrail cannot extend more than 3-1/2 inches into the stairway, and the handrail must be 1-1/4 to 2 inches wide and not extend more than 1-1/2 inches from the wall. Stairways overlooking another space require openings in the stair rail no more than 4 inches in any direction and open risers no taller than 4 inches.
Landing Requirements
Landings are required at the top and bottom of the stair, as well as along a flight at least 12 feet or greater in height. Landings must be 36 inches in width and depth. Doors can be placed at the bottom landing but not on any other landing unless a 3-foot buffer is used to accommodate the door swing. Furthermore, an exterior landing at a door cannot be more than 8 inches below the threshold of the door.