Adding a garage to your property can increase the value of your home, protect your car from the elements and offer additional storage space for all your outdoor equipment. But the overall cost of building a garage depends on many factors that you may not have considered.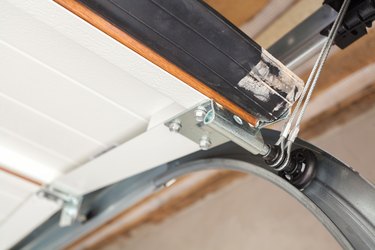 Location, Location, Location
Location plays a huge part in the cost of any building project. Consider where you want your garage to be in relation to the rest of the property and home. Some Home Owners' Associations (HOA) and city properties have limitations on where and what can be built. An attached garage may need a different building permit than a stand-alone or prefabricated garage. Attached garages may also have to be approved by the HOA before building, and additional materials to match the existing structure may be more expensive than anticipated. Depending on your area, age of the home and local regulations, an inspection must be passed to attain a building permit. These costs have to be factored in to your final budget. Building permits range from $150 to $4,000 depending on your location.
What Size?
One car? Two car? Maybe even three? Your estimated budget grows with each square foot you add to your plan. A typical two-car garage is around 20-by-20 feet (with some larger, up to 24-by-24). The property has to accommodate the new structure as well as additional footage around the perimeter of the building for foundation.
By the Foot
You've got your size, you've got your location—now how much will it cost? The national average for building a garage is around $26,054, with a range between $17,054 and $37,218. You can determine a base price estimate by calculating the square footage. A large, two-car garage at 24-by-24 feet can cost around $30 to $50 per square foot. The larger your garage is, the higher this price will go.
Additional Materials and Labor
Windows and window trim? An enclosed attic? Additional lighting? Custom cabinets? These details add additional costs on top of your existing budget. The square footage costs do not include things like doors, paint and lighting. To give you an idea of what additional costs will be, a vinyl window can range from $126 to $300. Two or more windows in your garage will add up. The labor costs for those who are building your garage vary. In addition to builders and concrete pourers, an electrician will be needed to install lights and wiring. A master electrician averages $80 an hour for their time. Be sure to add these numbers to your budget, and be warned that as with any type of construction, there will be hidden costs and surprise charges.
DIY and Prefabricated Garages
Taking on a do-it-yourself project can cut costs, but not entirely. While the labor costs will be largely eliminated, you will still need the materials, permits and foundation. Materials should be estimated to around $25 to $45 per square foot, depending on size. Floor plans that are specifically for stand-alone structures are less expensive than blueprint plans for attached garages. Prefabricated garage plans and kits are available online and in some home improvement stores. These can range from $3,000 to $12,000 depending on location and shipping. Remember: with a DIY or pre-fab project, you will still need a concrete base. Concrete averages around $75 per cubic yard, making a two-car garage space around $975.