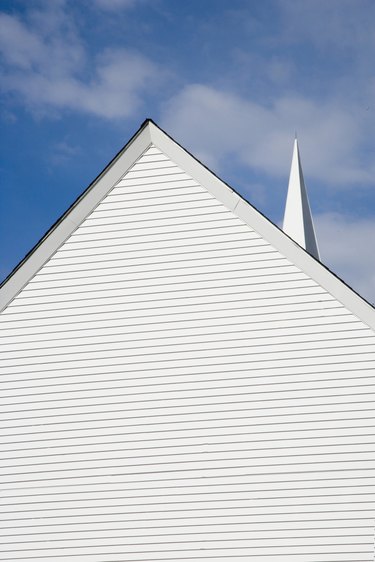 Roofing terminology may be difficult to understand unless you are a builder or roofer. Terms are used to break down the various areas of a roof and a "rake" is one of many roof sections. The rake is not exactly on the roof. It is a term that describes the sloped sides of a gable end. The rake can be flat with no overhang, or it can overhang the gable end like an eave. The overhanging rake then is closed in with soffit and fascia or left open. A roof rake may be intricately designed.
Types of Roof Rakes
There are three types of roof rakes: overhanging exposed, overhanging and boxed in, and abbreviated or extended. Exposed rakes often are on sheds or cottage homes. The rafters and framing in the eaves are left open. A closed rake is boxed in. The soffit usually is 6 inches or less in width and simple in design; this is one of the most common types. The overhanging extended rake is wider. Its soffit is usually wider than 6 inches and may have more intricate details.
Rake Board Composition
Rake boards are cut from multiple types of substrates such as pine and cedar, smart board, PVC board and concrete board. The type of rake board a builder uses is based on the style of trim and fascia on the rest of the house or building. Rake boards may be wrapped in metal to match metal-wrapped fascia or painted to match painted trim.
Purpose of a Rake Board
The rake board covers the top edge of the siding where it meets the roof, or soffit if there is an overhang on the gable end, and prevents rain from running behind it. Rake boards are installed on the gable ends of brick houses to cover the exposed top edge of the brick.
Size and Type of Roof Rake Boards
Roof rake boards are installed in different widths based on the surface being covered. One-by-2-inch rake boards often cover the exposed top edge of the siding when there also is an eave overhang on the gable end. Use larger rake boards such as 1-by-4-inch and 1-by-6-inch when there isn't an eave overhang on the gable end. The top edge of the board rests against the roof decking and the bottom edge covers the siding or brick. The length of a rake board varies depending on the length of each side of the gable.
---
Based in Oklahoma City, Debbie Tolle has been working in the home-improvement industry since 2001 and writing since 1998. Tolle holds a Master of Science in psychology from Eastern Illinois University and is also a Cisco-certified network associate (CCNA) and a Microsoft-certified systems engineer (MCSE).