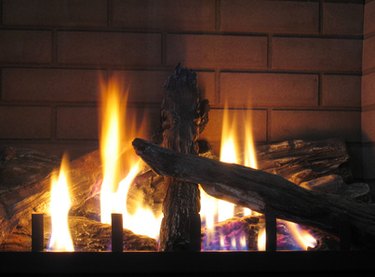 Gas fireplaces are a convenient heat source that is efficient and easy to use. Energy Star boasts that some gas fireplace units are at over 90 percent efficiency with little extra costs to operate. Like all fireplaces that give off heat, there are code requirements that have to be met, especially for the hearth.
Material
Gas fireplace hearths may not be made of any combustible material. Appropriate hearth materials are tile, stone, brick or concrete.
Floor Distance to Combustibles
The hearth must project at least 36 inches out in front of the fireplace, if the fireplace doors open to expose the flames to open air. Units that have sealed fronts (direct vent units) may allow less of a hearth, per manufacturer recommendations, based on overall size and temperature of the sealed unit.
Side Clearance to Combustibles
The standard building code is 6 inches of minimum clearance around the opening of the fireplace and it must be surrounded by a noncombustible material. However, if the mantel projects more than 1 1/2 inches from the face of the fireplace, the top noncombustible clearance must be at least 12 inches. For direct vent sealed units, these clearances are based on the manufacturers installation recommendations and should be followed exactly to prevent fire hazard and/or injury.