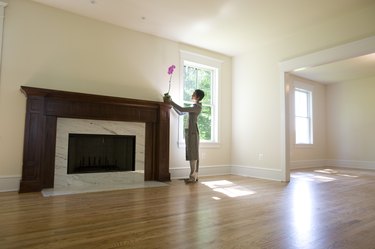 When building a fireplace, the hearth's dimensions must be large enough to prevent ashes and soot from tarnishing the room's floor. A fireplace's flooring is made up of the hearth, or the flooring within the fireplace opening, and the hearth pad, which is the extended flooring in front of the fireplace. Another term for hearth pad is "hearth extension." The hearth and hearth pad must be made of noncombustible material, such as brick, stone, tile or concrete.
Standard Dimensions
Standard hearth pad dimensions vary based on the width of the fireplace. When building standard models, make sure hearth pads extend at least 16 inches beyond the fireplace's front edge. Also, ensure the hearth pad stretches at least 8 inches past the right and left edges of the fireplace. Standard hearth pad dimensions apply to fireplaces with openings less than 6 square feet.
Larger Fireplaces
When fireplace openings are larger than 6 square feet, different hearth pad dimensions are necessary. Larger fireplaces release more ashes, debris and soot than models with smaller openings. For larger fireplaces, extend the hearth pad at least 20 inches from the fireplace's front edge. The width of a larger fireplace's hearth pad stretches 12 inches beyond the left and right edges of the fireplace.
Thickness
A standard hearth has a required thickness in order to support fireplace grates and the hearth's own weight. The minimum thickness of a standard hearth's flooring within the fireplace is 4 inches. The hearth pad requires a thickness of at least 2 inches. However, if the fireplace's floor is at least 8 inches taller than the hearth extension, the hearth extension's thickness must only be at least 3/8 inch. Hearths and hearth extensions are made from concrete or masonry and do not contain any combustible materials.
Elevated Fireplaces
For elevated fireplaces, make sure the hearth pad is tall enough to match the level of the fireplace's hearth. Some elevated fireplaces have hearth pads at floor level. If this is the case, install a hearth pad that extends 20 inches beyond the fireplace's face wall. Elevated fireplaces are able to release ashes and soot further than floor-level fireplaces, which is why floor-level hearth pads require a longer extension.