A deck offers respite from the daily grind and is a lovely way to pass the time. While you're out there soaking up the sunshine, you may look up and realize a roof would make the deck that much more enjoyable. Adding a roof to an existing deck can take some doing. The support needed to add the roof so that your existing deck doesn't crumble is significant in successfully installing a roof that will last for many years.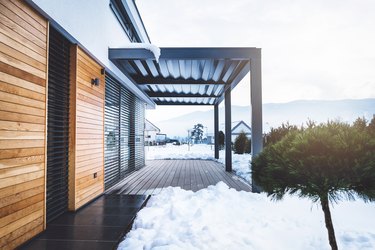 Benefits of Building a Roof Over a Deck
Building a roof over a deck not only provides shade from the blazing sun and shelter from light to heavy rains, it can also protect the deck itself from deteriorating under harsh weather conditions. There are many covered deck ideas, most of which start at a level slat roof with drainage or spaces and can advance to pitched and shingled roofs that add a pleasing aesthetic to a roof and the landscape of a yard.
How to Support a Roof Deck
No matter the situation, either attaching to an existing deck or building onto a deck that is being built in progress, the weight of the roof needs to be considered in relation to the deck. If the roof is attached to the deck, it needs to be able to support the weight. Decks typically are designed to support 55 pounds per square feet, or PSF, of weight. If the deck doubles as a porch, it needs to be able to support no more than 80 PSF. Porch decks also require larger footings than deck footings. Most deck roofs require separate footings from the deck to support the weight of the roof throughout the seasons. For deck roof posts, dig holes for the roof posts and pour cement to keep them secure. Always check the local codes.
Free Standing Roof
A free standing roof can be built over a deck, paved patio or concrete pad. A free standing roof needs to have posts sunk into the ground. If it is next to a house or structure, it should be secured to the siding or roof of that structure, as well, to keep it stable through high winds and lashing rains. Free standing covered deck plans are available in abundance online. Many deck roof designs are free online and can help if you are stumped at what type of roof you plan to build or install.