Many people own or lease land for permanently parking a travel trailer. It's common in certain rural areas for rooms to be added to such a trailer. An added room greatly expands the living space, and you can build on an extra room for family activities, sleeping or to accommodate overnight guests. Be sure to build a room that will hold up well in all types of weather as you don't want to invest in constructing a room that doesn't last for several years.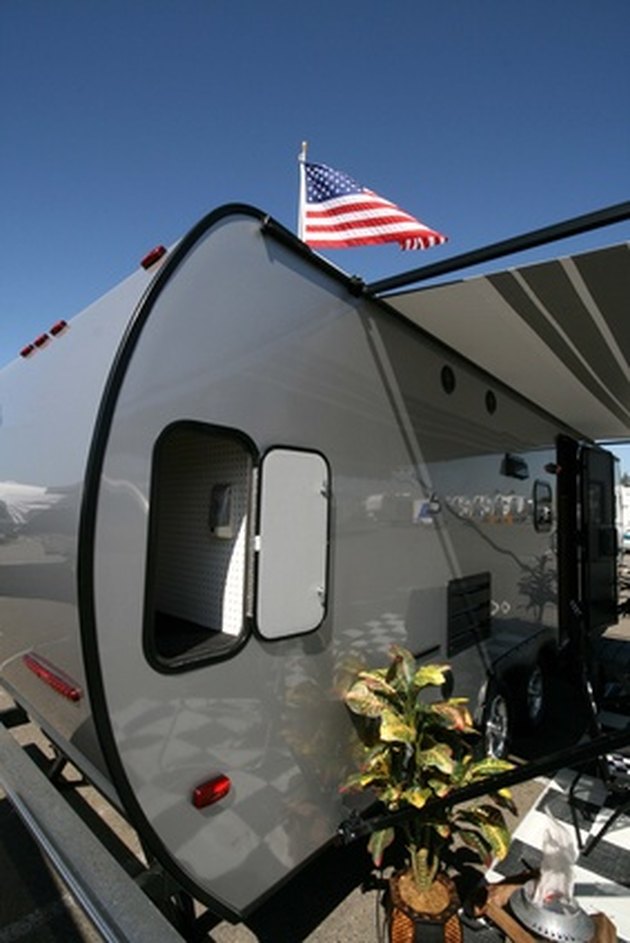 Step 1
Measure the space for the room you will be adding. Inquire about special zoning or a building permit from local authorities. You may or may not need one. Dig footings to support a cinder block foundation. Fill the footings with concrete 6 inches deep. Order a concrete pour or mix the concrete on-site. If your trailer is on soft soil, make footings 12 inches or more. Have a brick mason lay blocks as high the floor of the trailer. Allow room for a crawlspace door.
Step 2
Anchor a cap lumber board around the entire perimeter of the cinder blocks. Use specially made anchor bolts designed for attaching lumber to blocks. Build the floor joists for the room with 2 x 12 lumber boards. Use exterior-grade plywood for the room's sub-flooring. Sink 4-inch stainless steel flathead nails into the sub flooring and floor joists with an electric screwdriver.
Step 3
Remove exterior siding of the travel trailer to expose raw framing for walls and roof. Construct the framed walls of the room before you tackle the roof changes. Use 2x4 lumber boards. Leave room for a walk-out door and windows in the framing. Build the walls flat and then stand them up for attachment to flooring. Use nails to connect the walls and secure further with screws.
Step 4
Engage the help of a roofing carpenter to help you design how to fit the room's roof into the roofing of the trailer. Build trusses or rafters for the room's roof area. Create a roof that is higher on the trailer side, slopping 12 inches to the drop-off side. Avoid building any type of flat roof, which may leak. Use 2x12 lumber to build rafters or 2 x 4 lumber to build trusses for the roof. Place exterior grade plywood over the roof area and nail exterior-grade plywood over the area. Install asphalt shingles.
Step 5
Attach the new room to the trailer to keep out rain and conserve heat and cooling. Choose an appropriate wood or metal stripping to attach where the room joins the trailer. Install the stripping after the new room is attached via bolts to the framework of the trailer. Install windows and exterior siding on the room. Drywall the interior of the space.