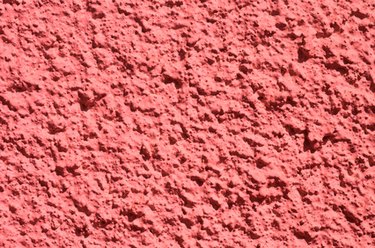 Stucco is a durable finishing surface that can beautify any exterior surface. Stucco needs to be applied to a sturdy, stable surface in order to ensure that it doesn't crack or crumble. If you apply stucco to a wooden surface, you must first install a metal netting to hold the stucco, but it can be applied directly onto a concrete surface. You only need to make sure that the surface is clean and structurally stable. Consider adding pigment to the final coat for an extra bit of flair on the finished product.
Step 1
Apply a coat of concrete bonding agent to the concrete surface using a paintbrush. Allow it to dry completely. This will help the stucco adhere to the concrete.
Step 2
Mix the stucco with water according to the packaging instructions. The stucco should be the consistency of a thick paste that maintains its shape if you mold it in your hand.
Step 3
Apply the first coat of stucco to the concrete surface. This first coat is known as the "scratch coat." This coat helps the final coat bond properly to the wall. Use the flat finishing trowel to spread the stucco evenly across the surface. The scratch coat should be between 1/4 and 1/2 inch thick. Allow the scratch coat to harden slightly.
Step 4
Scratch the first coat using a plasterer's rake. The scratches should be 1/8 inch thick. Drag the rake horizontally across the scratch coat until the entire wall has been scratched. Allow the scratch coat to dry for the next 36 to 48 hours. Spray the surface lightly with a fine mist of water periodically during the drying time. A damp curing process helps to ensure the greatest strength of the stucco.
Step 5
Use the trowel to apply the second coat. Spread the stucco over the entire surface, to a thickness of 1/8 to 1/4 inch. You can smooth the coat with a float if you desire a smooth surface, or you can add a texture to it according to your preferences. Allow the final coat to cure over the next several days. Spray the surface occasionally to facilitate a damp curing process. The final coat will continue to cure over the next six to eight weeks.