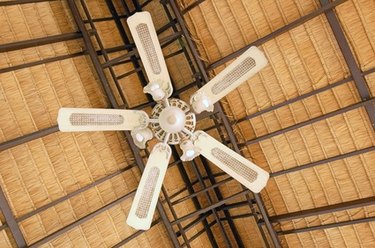 Casablanca's Inteli-Touch control system was the first computerized ceiling fan. The Inteli-Touch Casablanca fan control unit operates the fan speed and a full-range light dimmer with silent operation. Casablanca has nine series of fans with this technology. The fan has six variable speeds with "Fan Minder," which adjusts the fan speed automatically on cool nights while you sleep. The light has "Safe-Exit," allowing the light to stay on for 30 seconds after shutoff to give you time to exit the room safely. The Casablanca's Inteli-Touch also has a "Home-Safe" feature that turns the light on while you're away to make your home look occupied. If you forget to turn the light off when you leave, the light will turn off automatically after two hours, saving energy. Occasionally when you lose power during a power outage the microcomputer may need to be reset. When the power is returned to the fan, the control unit will go to the default settings or may be scrambled.
Step 1
Turn the power off to the fan to reset the control unit. Wait three seconds, then turn the power on to the fan. The control unit is now ready to program.
Step 2
Press and release the "Light" button for less than one second to turn the light on and off for normal operation. The first touch of the button turns both lights on, the second touch of the button turns only the the down light on and the third touch turns only the up light on. Turn the light off to reset the brightness of the light. Press and hold the "Light" button; after one second the light will come on at the dimmest level. The light will gradually get brighter. When the light is at the desired brightness, release the "Light" button. The level of brightness will now be in the fan control unit memory, and the normal operation of the light will return. If you want the light brighter when you turn on the light, press and hold the button to increase the brightness.
Step 3
Press and release the "Fan" button for less than one second for the fan to turn on to the programmed speed. With the fan off, press and hold the "Fan" button. The fan will turn on and gradually change speed. There are six speeds for the fan. Release the button when the fan is at the desired speed. The normal operation will return at the desired speed.