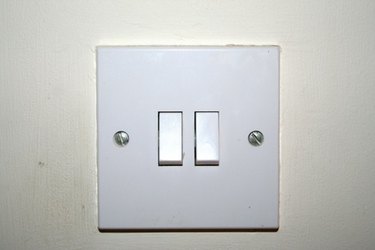 If you are building or renovating a house, you may be trying to decide between rocker-style light switches and traditional light switches. While both types will function similarly, there is a difference in both cost and style that can be important to your new build or renovation.
Wiring and Installation
The wiring requirements are identical for both types of switch. Both switches control electricity the same way. Both types of switch are designed to fit within the same wire-box size—if you compare the back box of a standard switch to the back box of a rocker switch, you would be unlikely to see any difference. This universal design allows homeowners to easily change their existing switches for the style they prefer.
Function
Rocker switches and traditional switches operate the same way in that both control the on/off functions of lights, fans or power outlets. Rocker switches require less hand pressure and may be easier for small children to operate. While both traditional and rocker switches may get "stuck" between the on and off positions, rocker switches present this problem more frequently. Rocker switches offer slightly quieter operation.
Cost
Both switches control energy in the same way, so your switch style will not affect your power bill. Because both are installed the same way, a handyman or builder should charge the same fees for installing either type of switch. However, there is a price-point disparity for the actual switch and corresponding plate. A contractor-grade traditional switch and plate will cost about $1 at a home improvement store. A similar-grade rocker switch and plate will run about $3 at the same store.
Appearance
The main difference between rocker switches and traditional switches is appearance. The visible switch on a rocker switch is significantly wider and broader than that of a traditional switch. Traditional switches protrude significantly farther from the wall than do rocker switches. Rocker switches are easier to wipe clean because of their shape (provided you don't mind turning the lights on and off in the process). Though white and off-white are the most popular colors for both styles, traditional switches are often available in a wider range of special order colors than are rocker switches.
Style
Rocker switched are usually used in higher-end new construction while traditional switches are generally used in less expensive new homes. Rocker switches are generally considered to be more desirable for new homes and modern renovations. However, the traditional switch is still the switch of choice for period or historic renovations. Ultimately, switch style is a matter of personal preference. Decorative switch plates are more abundant and less expensive for traditional switches.