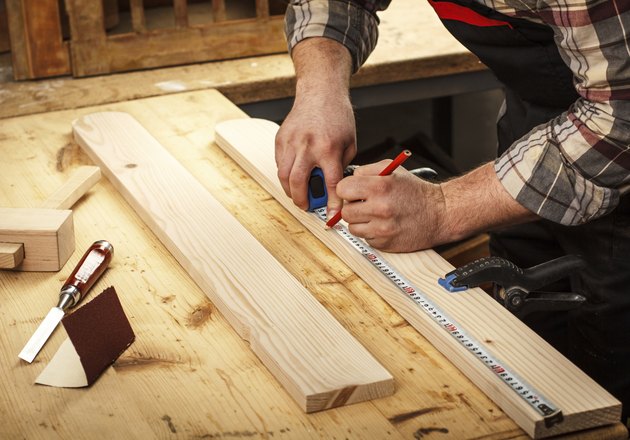 Scroll saws are the surgical tools of the woodworking world. They cut fine, detailed lines in wood using a short, thin blade that moves up and down at a high rate of speed. Choose the wrong wood or improper thickness, and the workpiece can chatter, jump up and down, smoke, chip or all of the above.
Practice
Use softwood to practice or train to operate a scroll saw. Wood species such as white pine or poplar yield to the blade with little tension or resistance. For a more advanced practice, switch to alder to get the feel for hardwood. Gauge and test how tight or how small rounded cuts can be without binding or cracking. Pine, poplar and alder, although nice to practice with, are generally considered too soft for delicate scrollwork, often breaking when cuts are made within 3/16 inch of each other, or when curved sections turn into tight circles, breaking the grain at the apex of a curved portion. Keep these softer woods on hand. If you're curious about patterns, test them on the softer pieces of wood before using your final wood choice.
Wood Thickness
Wood thickness is important. Scroll saws are capable of cutting, or can be made to cut, wood up to 2 inches thick -- but it's not advisable. Unless you're cutting very soft wood it can result in damage to the blade, the saw or your fingers from pushing too hard. Wood up to 3/4 inch thick is acceptable, with exceptions for thicker wood made at the operator's discretion. Scroll saws are designed to cut delicate, complex patterns with intricacies that only a fine, small blade can accomplish. If you have to cut thicker or harder wood, a band saw is a better choice.
Reproduction Work
Scroll saws have been accepted as a tool for reproduction work. If you can draw it, a scroll saw can probably cut it. If you have broken or missing chunks of woodwork or trim in a remodel or reproduction, use the scroll saw to cut mahogany or a similar wood to fit what's needed. For exterior trim work on Victorian homes, use 3/4-inch clear cedar or cypress for gingerbread reproduction curves, dips and scallops. Cedar cuts easily and is dimensionally stable enough to retain odd shapes. Cypress is harder, so you'll need to cut it a bit more slowly.
Plywood Corbels
Cabinetmakers use corbel brackets to support overhanging shelves or countertops. Some of the best corbel brackets are cut from Baltic birch plywood using a scroll saw. Unlike the four- or five-layer construction of most plywood, Baltic birch has 9-ply construction. It's the toughest plywood available. The uneven number of layers allows the plywood to balance evenly from the center layer, making it stiff and permanent. Draw the corbel design -- even a French curve is acceptable -- and cut it out of Baltic birch plywood using the scroll saw. If you're not particularly artistic, download a corbel pattern or template. Affix it onto the plywood with spray adhesive and cut the template and plywood together.
Common Hardwoods
Ash and maple are some of the harder woods commonly used for scroll work. Even when cutting thin pieces, 1/4- to 1/2-inch thick, these two hardwoods retain the shape of the template or design. But the density requires close attention; if you see smoke or the wood chatters or bounces, adjust the position or feed rate until it cuts smoothly and smoke free. Red oak is slightly softer than ash or maple. Issues with oak involve curvy grain patterns. If the grain turns sideways at the wrong moment, such as inside a curve, it can shatter or crack. Walnut and cherry are two good candidates for scroll-saw work. Not only are they beautiful in color, they're relatively soft and retain a certain resiliency, adapting to curves, templates and patterns.
---
Specializing in hardwood furniture, trim carpentry, cabinets, home improvement and architectural millwork, Wade Shaddy has worked in homebuilding since 1972. Shaddy has also worked as a newspaper reporter and writer, and as a contributing writer for Bicycling Magazine. Shaddy began publishing in various magazines in 1992, and published a novel, "Dark Canyon," in 2008.