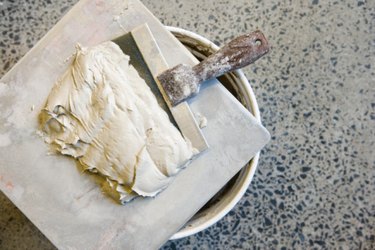 Joint compound is one of the most common plasters used to create texture and relief on ceilings. Still, you may wonder how much of the compound to purchase. A variety of factors will determine this. Different ceiling techniques you can perform with the compound include knockdown, stippled and rolled-on effects.
Thick Knockdown
When applying thick knockdown finishes, expect to use about 1 gallon of joint compound per 50 square feet of ceiling space. Thick finishes are applied with trowels or are rolled on with a paint roller and then knocked down with a drywall trowel. Only about 75 percent of the surface needs to be covered. Don't apply the plaster more than 1/4-inch thick. Applying the plaster any thicker will cause it to crack.
Thin Plasters
When applying a very light, thin texture to the ceiling using a trowel, much less joint compound is needed. Often you can cover 100 square feet or more of ceiling space per 1 gallon of joint compound. Thin plasters may crack after drying. Inspect the ceiling once it is dry, and add additional plaster to fill in hairline cracks.
Joint Compound Benefits
One of the main reasons drywall professionals use joint compound to texture ceilings is cost. According to Home Depot's 2011 prices, a 5-gallon bucket of premixed joint compound costs about $10 to $12. Most ceilings are relatively small in space. One 5-gallon bucket or two should cover most ceilings.
Additional Cost Tips
When texturing a ceiling, don't forget additional costs. You will need to purchase plenty of painter tarps to protect your flooring. Purchase a few extra paint rollers because one paint roller generally becomes too heavily saturated with plaster to complete the entire project. Painter's tape and acrylic paint are additional items needed to professionally finish your project.