HardiePlank (or HardiPlank) is a composite siding material used in lieu of traditional wood siding. HardiePlank also trims windows, fascia, columns and a home's additional decorative exterior trim areas. The manufacturer produces different HardiePlank products called HardiZone for use in arid, tropical and humid climates, as well as cold and hurricane-prone environments. HardiePlank has a 15-year product warranty. Installation requires corrosion-resistant fasteners.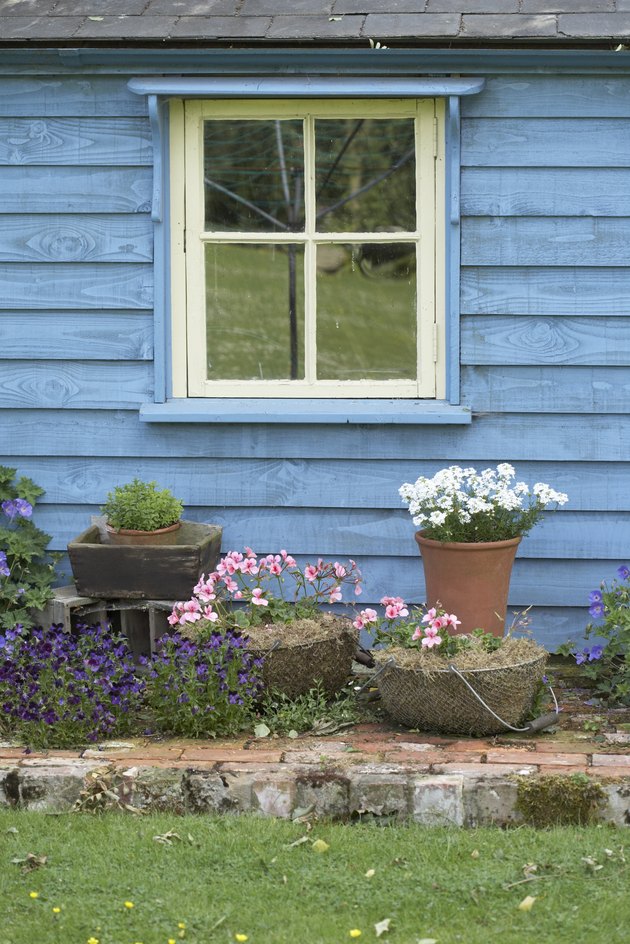 Blind nailing is the preferred installation method for HardiePlank. The term applies to a nailing/screwing method for joining HardiePlank planks to hide nail or screw fasteners. Use a Number 8, 1-1/4-inch-long by 0.375-inch-wide (HD) ribbed wafer-head (or equivalent) screw on steel studs. Three screw threads must penetrate the steel stud; the manufacturer does not list an appropriate wood stud screw.
Face nailing refers to affixing the HardiePlank on the front -- face -- of the material. Unlike blind nailing, the screw or nail head is visible in the face-nailing installation method. Use a Number 8-18, 1-5/8-inch-long by 0.323-inch-wide (HD) ribbed bugle-head or equivalent screw. At least three threads must penetrate the steel stud.
HardiePlank is not treatable with stain products and it must not come in contact with standing water. It can, however, be painted. Install on flat vertical surfaces. Wood or steel studs or minimum 7/16-inch-thick sheathing are appropriate underlayments. You can install HardiePlank over foam insulation (up to 1-inch thick). but nailing the product into the foam will warp it. Also, the manufacturer advises you to research wind-load building codes in high-wind areas before placing an order.
Avoid breathing silica dust emitted when cutting and installing HardiePlank pieces. Silica dust may cause a serious respiratory disease called silicosis. Wear protective gear. Special care is required when removing HardiePlanks from the pallet, since improper handling will damage the material.