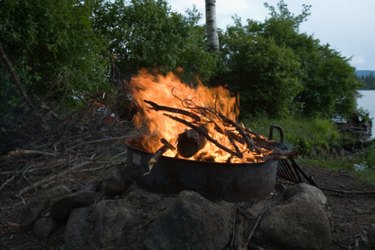 Fire is always a danger to wooden structures. While methods of making wood almost completely fireproof are available, most of these involve expensive materials or processes requiring special materials. Fortunately you can make a simple spray- or paint-on mixture at home out of easily-obtained chemicals that will help retard flame. While this won't make the wood entirely fireproof, it will give it enough resistance to allow you to quickly put out any conflagration before it spreads.
Step 1
Fill a bucket with 2 quarts of water.
Step 2
Pour 1/2 cup zinc chloride and 1/4 cup ferric chloride into the water, together with 3 tbsp. each of boric acid and ammonium phosphate. These materials can be found at farm and gardening stores and from chemical supply dealers.
Step 3
Mix the ingredients thoroughly. Paint or spray two to three coats of the mixture onto your wood to protect it from fire.