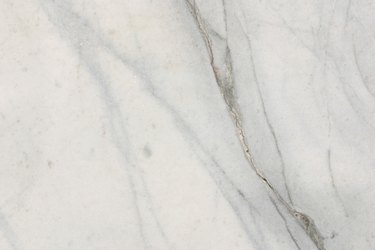 The marble quarries of Carrara are famous around the world for their exceptional quality and output of marble. While most people associate Carrara marble with a gray and white stone, several types of marble actually are mined at Carrara. Since the name of the stone refers to its origins, it makes sense that there would be multiple varieties of Carrara Marble.
Bianco Carrara
The most common of the Carrara marbles is Bianco, or standard Carrara. While the word "Bianco" means "white" Bianco Carrara is a light gray in color. The nearly white stone is marked with a heavier gray vein. These veins could be darker or lighter, and may cover the entire stone, or be in just a few areas. Since each lot of marble is unique, each stone will have its own characteristics. Bianco Carrara is the least expensive and most common of the Carrara marbles.
Whiter Carrara Marbles
While Bianco Carrara is a standard and light gray stone, there are other Carrara marbles that are whiter in color. Bianco Statuario, or Statuary Carrara and Bianco Venetino or Venetino Carrara are both pure white in background. Both stones have a white color that is marked with gray veins. Bianco Venetino is also occasionally marked with gold veins or flecks. Both stones are prized for their true color, and both will have the same amount of variation as Bianco Carrara. Statuario in particular is a more expensive stone, as its color is more controlled.
Dramatic Carraras
Not all Carrara marbles are simply white or light gray with veins. Two Carrara marbles are extremely variable; Arabesco and Cipollino. Arabesco is gray veins and markings known as "arabesques" across its surface. Much more dramatic and varied than the other Carrara marbles, Arabesco is used in tiles and counters for dramatic affect. Cipollino resembles the onion it was named after with green, white and gray stripes or bands making up its surface. Some Cipollino marble is truly green with small amounts of gray and white, while others are more purely gray with some white veining.