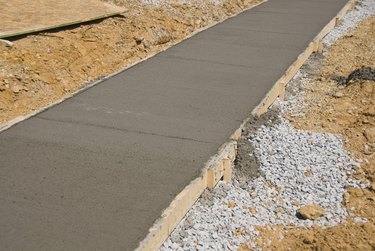 Created out of one of the hardest construction products known to man, cement slurry is used around the world for any type of large-scale building project where forms are used to create large slabs and areas of pure concrete. A mixture of sand, cement, water and sometimes lime, cement slurry can be used for residential construction as well as commercial projects to create foundations, pour slabs and driveways and more.
Cement Slurry Basics
Cement slurry has been in use since ancient times and continues to be one of the most durable types of foundation materials used in construction around the world. Its basic mixture is a fine sand with cement and water added until the entire mixture is a thick, creamy batch of concrete that can be poured through a tube or down a chute, such as on the back of a concrete truck.
Aggregate
Aggregate added to the mixture helps thicken it. While gravel can be used in concrete and is commonly seen in rough structures as a basic building block, it is more common for a fine type of sand to be used for slurry to keep the mixture as pourable as possible while still retaining some form of thickness. It also helps the concrete from cracking during the shrinking phase of the curing.
Forms
Cement slurries rely on forms to create the molds necessary for structures. Boards are normally used along with sheets of plywood and rebar to reinforce the inside of the foundation where the concrete will be poured as well as the outside.
Underwater
An interesting thing about slurry is that it can be poured even in underwater settings, as is evident in many ancient harbors around the world. As a homeowner you can use cement slurry even if you live in a humid area or are expecting rainstorms. Once concrete mixes with water, a chemical process of curing begins that more water cannot affect once the surface is set up.