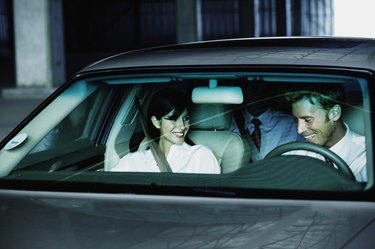 Carports differ from garages in that they must be completely open along at least two sides and can only be one story in height. Although building a carport requires a permit from most local governments, the planning specifications for a carport are easier and cheaper to meet than those of a garage. There is a wide variety of carport specifications, depending on your budget, the type of vehicle you drive and the weather conditions in your area.
Footings
Carports require a suitable footing to withstand the weight of the structure. Local footing requirements will vary depending on where you live. A typical specification for a carport's concrete footing is a resistance of at least 2,000 pounds per square inch.
Size
The size of your carport will depend on the number of vehicles you own and their size. A typical size for a single-carport cover, suitable for a single car, is 12 feet by 20 feet and 6 or 7 feet high. Double carports are around 20 feet by 20 feet. In some areas, such as San Diego, California, the size of a carport is restricted to less than 1,000 square feet. If the carport is attached to a house's wall with windows or skylights, the minimum height of the carport is 7 feet.
Material
Carports are built out of various materials, such as steel, wood, fiberglass and plastic. All lumber components should be treated to protect against decay and termites.
Framing and Post Size
Carports can be free-standing or attached to another structure, such as a house or garage. Attached carports can use the supporting structure as framing for one of the sides. A carport's post size will vary depending on the height of structure. Minimum specification for a carport post up to 8 feet high is 4-by-4 inches. Taller posts of up to 10 feet high must be at least 6-by-6 inches.
Siding
Carports can have siding on two of the structure's sides to provide extra protection to vehicles. You can buy carports with pull-through bays that can be secured with a lock and key.
Function
Carports can be used as a motorhome carport, a boat carport, a carport garage or simply for storage.