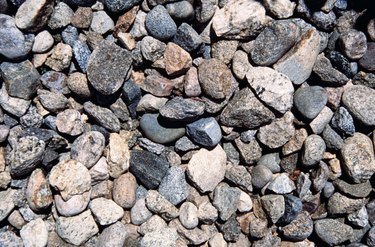 The American Society for Testing and Materials issues standards for the classification of materials, sorting of different materials, and testing methods to determine its quality. ASTM has created a numbering system to classify rocks and crushed stone based on its size. ASTM number 57 stone is large enough to allow drainage while supporting asphalt and cement. It is used in road beds, foundation beds and gravel walkways.
Manufacturing Process
ASTM 57 stone is made by crushing larger stone in a stone crusher. According to Aggregate Properties and the Performance of Superpave-Designed Hot Mix Asphalt", "a typical crushing operation in the United States might produce ASTM No. 57 stone in combination with ASTM No. 8 stone." The crushed rock is then sorted through a sieve based on size, capturing the larger size and allowing the sand particles to pass through.
ASTM 57 Stone Sorting
Aggregate stone mixtures are sorted according to ASTM D448. Gradation of stone and rock is found by ASTM C136, the Test Method for Sieve Analysis of Fine and Coarse Aggregates. Gage numbers are used to identify aggregate. ASTM No. 57 aggregate is found using a 1.5-inch sieve, through which all of the stones will pass. No ASTM 57 aggregate stone is smaller than a No. 8 seize with a 0.0937-inch sieve.
ASTM No. 57 Gradation
ASTM No. 57 is a type of aggregate grading. The ASTM specification for this type of concrete aggregate is C 33. Stone mixes made using this type of aggregate are porous. According to "Materials for Sustainable Sites" by Meg Calkins, "larger sizes such as 57, 67 and 78 will have more rapid permeability and little susceptibility to clogging." This allows it to be used in gravel walkways that allow for easy walking while allowing water to seep through to the ground underneath.
ASTM G57
ASTM G57 defines how to test soil resistivity. This method uses a Wenner four-electrode to test resistivity. All four probes are placed in the ground an equal distance from each other. Electricity flows from the electrodes into the soil and the amount of electricity conducted through the soil is measured. The soil resistivity is tested first as the soil is found naturally. The soil is then tested one day after saturation with corrosive water. The soil resistivity provides a measure of the corrosion that can occur to structures — such ASTM 57 stone foundations — buried in that soil.
---
My expertise includes product data management software. I provide first and second level technical support for this class of software as well as write FAQs, user manuals and troubleshooting guides for first level staff. My personal finance expertise has been showcased repeatedly on "The Dollar Stretcher" frugal living website and magazine.