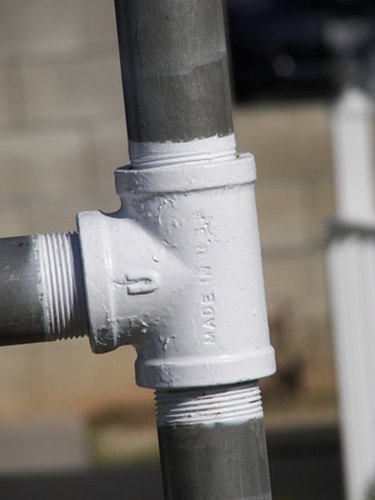 In addition to different materials, pipe comes in a variety of sizes categorized by schedule. Schedule 40 steel pipe is one of the most common materials used in a wide variety of construction and building applications. From gas lines to water lines, schedule 40 steel pipe's characteristics, including diameter, strength and reactivity, make it a construction standard.
Material
Schedule 40 steel pipe is typically made from a low-carbon or mild steel. These steels are typically categorized by having a carbon content less than .2 percent. However, for particular applications where a corrosion resistant material is needed, schedule 40 steel pipe may be galvanized, or plated with a layer of zinc to protect the underlying steel. For extreme applications, or applications where zinc is not appropriate, schedule 40 steel pipe may employ stainless steel instead.
Measurements
The term schedule in schedule 40 steel pipe applies to the measurement of the steel pipe. Specifically, schedule refers to the wall thickness of the pipe while a secondary term applies to the diameter, inside and outside, of the pipe. However, since the schedule attempts to standardize the overall strength of the pipe, the wall thickness does vary depending on the diameter. Schedule 40 steel pipe can therefore have a wall thickness between 1.727 mm for pipe with a diameter of 1/8 of an inch and gets as thick as 9.525 mm for pipe with a diameter of 24 inches.
Strength
According to the University of Massachusetts, the hardness of schedule 40 steel pipe was measured to be 16.1 on the Rockwell scale. It was also found to have a yield strength of 423 MPa, an ultimate strength of 470 MPa and an elastic modulus of 225 GPa.