Things You'll Need
Stud finder

Measuring tape

Drill and bits

Screwdriver
Tip
Use a piece of masking tape around your drill bit as a depth stop.
Warning
Always wear safety glasses or goggles when using power tools.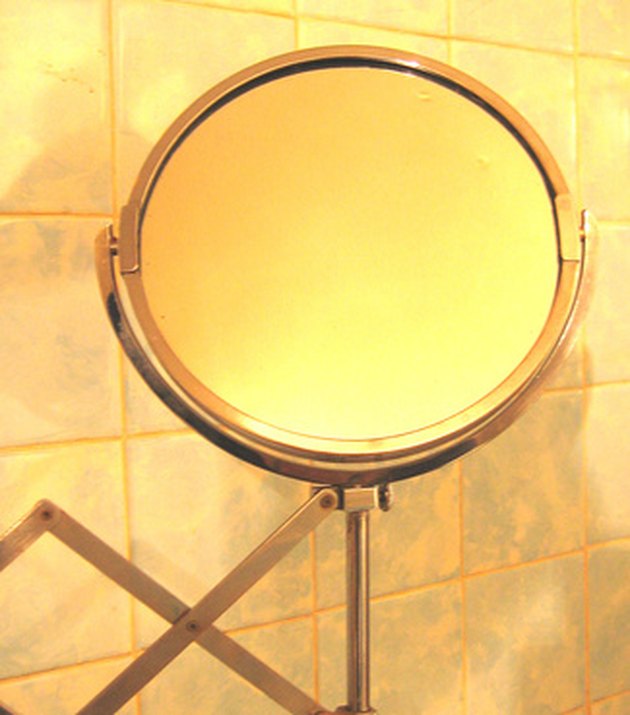 Installing a wall-mounted makeup mirror involves more than just screwing the mirror to the wall. You must first properly locate the mirror on the wall, taking care to screw the mirror into a stud or other backing. Failure to attach the mirror to strong backing will result a poor installation. The mirror comes with a mounting plate that is first screwed to the wall. The mirror is then attached to the mounting plate with decorative hardware.
Step 1
Plan the installation. Your makeup mirror should be installed slightly below eye level. For most mirrors, 54 inches to 60 inches off the finished floor is about right. If the person using the mirror will be seated, a range of 38 inches to 44 inches should work.
Step 2
Search for a stud to attach the mirror to, using a stud finder. Make a mark where your selected height intersects with this stud. Center the mirror's mounting plate on your mark.
Step 3
Mark the location of the two screws that hold the mounting plate to the wall, using the mirror's mounting plate as a template.
Step 4
Drill pilot holes for the mounting screws. Choose a bit the same size as the root of the screw thread, and drill to a depth equal to the screw's length.
Step 5
Attach the mounting plate with the supplied screws, being careful not to crush the drywall by overtightening the screws.
Step 6
Attach the mirror to its mounting plate, using the decorative nuts supplied with the mirror.
---
David Brown began his writing career while still in college, writing and editing research grants and scientific papers. His work has appeared in such journals as "The Journal of Clinical Investigation" and "Gastroenterology." He currently owns a construction company in Boulder, Colo.