Glacier Bay is Home Depot's proprietary brand of bathroom fixtures. The Glacier Bay product line includes vanity cabinets, as well as vanity tops with integral molded sinks and vanity tops with under mount sinks, all in a variety of colors and finish styles. The procedure for installing a Glacier Bay vanity is much like that of any other vanity brand.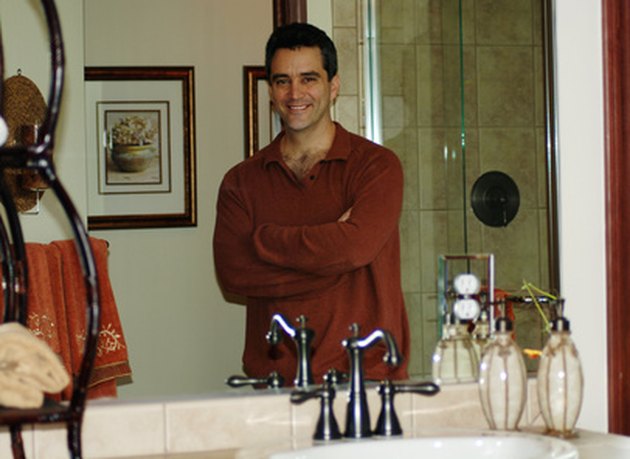 Step 1
Measure your vanity sink top. Measure the length of the top from side to side, and its depth, from the front of the top all the way to the wall. If you are installing a corner sink top that butts up against the wall on one side, the length measurement will be from the outside edge to the wall also.
Step 2
Disconnect the faucet plumbing. Turn of the water supplies to the faucet, and open the spigots to relive any pressure. Place a small bucket under each shut-off valve to catch a little leftover water in the lines. Unhook the water lines from the shut-off valves with an adjustable wrench; drain the water into the bucket. Unscrew the top and bottom nuts of the p-trap, lower the trap and dump the contents into the bucket as well.
Step 3
Remove the old sink top. Carefully use a box-knife to cut the seal between the back-splash and wall. If there is a bond between the vanity counter and the vanity base cabinet, use a hammer and chisel to separate the bond. Lift the top off.
Installing Your New Glacier Bay Vanity Sink
Step 1
Install the new faucet and drain. Before you set the top, install the new faucet and pop-up drain assembly. Set the sink top down on a drop cloth or other soft surface to prevent damaging the finish. Follow the manufacturer's instructions to install the faucet. Turn the sink upside down and finish the faucet install by connecting the pop-up drain assembly. With the sink still overturned, install the new water supply lines onto the faucet using your adjustable wrench.
Step 2
Set the new vanity top. Apply a ¼-inch bead of silicon caulking all the way around the top edge of the vanity base. Gently pick up the vanity sink top and lower into position on the vanity base, and firmly against the wall. Check the level of the top by using a two-foot construction level. If the top is not even, use several small plastic shims to level. Caulk between the sink top and back-splash. Wipe off any excess caulking with a clean rag.
Step 3
Connect the plumbing. Connect the water supply lines to the shut-off valves with your adjustable wrench. Reconnect the p-trap, lift the trap up onto the drain assembly and hand tighten the slip-joint nuts, with a pair of slip joint pliers secure the nuts firmly. Turn the water on; visually inspect all the faucet and drain connections for leaks.