Things You'll Need
Household cleaner

Cloth

Palm sander or sandpaper

Masking tape

Bonding Agent

Primer

Paint Spray Gun

Cardboard piece

EP-Acrylic Paint
Tip
Use sandpaper in the areas that are tough to reach with your palm sander. The sink may need three coats of acrylic paint. EP-Acrylic paint will give you the best results. It is an acrylic polymer coating that will give your sink a durable, smooth finish.
Warning
Only apply paint in a well-ventilated area. Use a dust mask for further protection from the paint fumes.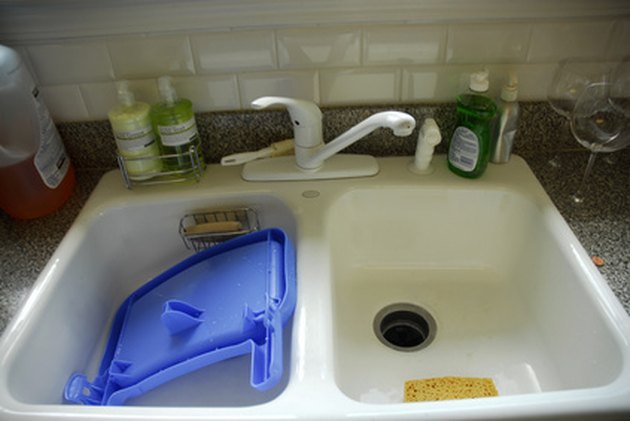 If your acrylic sink has started to look dingy, old and dirty, you may want to refinish the surface to restore the beauty that it once had. Refinishing your sink can be easier and less expensive than replacing the whole sink. However, if your sink is rusty or is pitted, you may need to replace it. Refinishing your acrylic sink will make stains and cracks disappear.
Step 1
Remove your sink from its location and set it in an open area where the refinishing process will be unobstructed.
Step 2
Apply the household cleaner to the sink and scour the sink thoroughly with the cloth. Starting with a clean surface will make refinishing the sink much easier.
Step 3
Sand the surface of the sink with the palm sander. Sanding allows the primer and paint to make a stronger bond. It also removes any abrasions, creating a smooth surface.
Step 4
Use the masking tape to cover any part of the sink's surface that you do not wish to paint.
Step 5
Apply the bonding agent to strengthen the bond between the sink and the paint.
Step 6
Mix the primer by shaking the can vigorously and fill the paint pot of the paint gun. Reconnect the paint pot to the spray gun. Do a test spray on a piece of cardboard to make sure the spray gun is working correctly. Apply the primer to the surface of the sink. Wait 30 minutes for the first coat to dry and apply a second coat. Let the second coat dry for one hour.
Step 7
Remove the paint pot from the spray gun and clean it. Mix the EP-Acrylic paint before pouring it into the paint pot. Fill the paint pot and reconnect it to the spray gun. Apply a coat of EP-Acrylic paint to the sink. Wait 30 minutes for the first coat to dry before applying a second coat. A third coat may be necessary.
Step 8
Wait 24 to 48 hours for the sink to dry completely. Replace it in its original location.
---
Sarah Davis has been a culinologist since 1998. She has worked in the offices and labs of Burger King, Tyson Foods and Cargill developing and writing recipes. She currently owns WISH Events in Atlanta. She and her husband also buy homes to rejuvenate and resell. She holds degrees from Johnson and Wales University in culinary arts and the University of Georgia in food science.