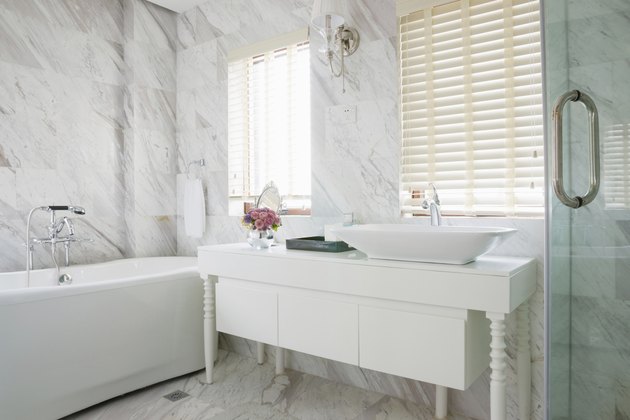 When remodeling your bathroom, knowing the typical shower dimensions makes planning and executing your new designs much easier. Implementing basic shower dimensions keeps your budget under control, helps maintain safety requirements and ensures a comfortable bathroom.
Typical Dimensions
The typical shower stall is 36 inches wide by 36 inches deep. Other common dimensions are 36 inches by 42 inches and 36 inches by 48 inches. For smaller bathrooms, a shower stall measuring 30 inches by 30 inches combines function with space-saving design.
Larger Models
People considering larger, luxury-style showers should investigate specialty bathroom shops, which carry models measuring 48 inches by 96 inches or 72 inches by 72 inches. Showers designed for two people usually measure 52 inches by 60 inches.
Considerations
In addition to shower size, you need to ensure a 30-inch clearance for a standard sized swinging door. You will also need to maintain a distance of 32 inches between all major bathroom fixtures to meet the standards set forth in the Americans with Disabilities Act.
Faucets and Fixtures
Typical rough-in dimensions include measurements not only for the shower stall, but also for parts such as faucets and fixtures. Measurements can vary according to your personal preference. Typically shower heads rise 65 to 76 inches above the floor and faucet fixtures rise 46 inches.
---
Tuesday Fuller began freelance writing in 2007. Her work can be found on various websites. She received an Honorable Mention Award for works submitted to the Iliad Literary Awards Program in 1999. Fuller gained on-the-job home-improvement experience, including in interior design and maintenance, by assisting independent contractors with many projects.