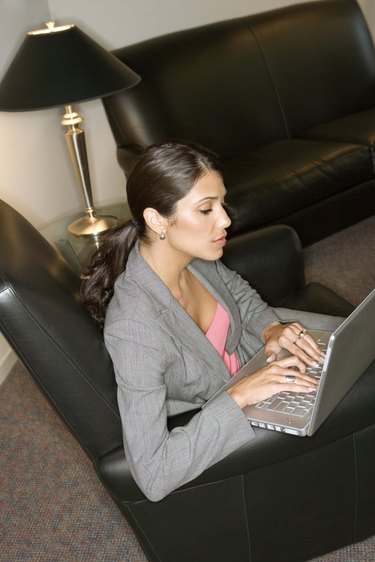 A chair that can swivel and rock is a great asset, particularly if there is a new baby in the house. A comfortable chair, like a Lane recliner, can be modified to swivel and rock. This will change the appearance of the chair, and the reclining feature may not operate in the same way afterward, but the additional features usually make these differences easy to manage. It's important that the recliner be in good shape so the modification attaches securely.
Step 1
Turn the rocker upside down and remove the cambric. Cambric is a black fabric used by upholsterers to cover the underside of upholstered furniture. Use pliers to remove tacks and staples.
Step 2
Expose the underside frame of the recliner. Chairs of different styles and ages will be manufactured differently. Check the frame to see if it is solid. The reclining mechanism is housed above the bottom frame. If the framing is open, you might need to add blocking or sheet plywood as a base for the swivel attachment. Compare the swivel base to the existing frame to align the attachment holes.
Step 3
Attach any necessary blocking or plywood using screws. Drill through the swivel base into the blocking or plywood.
Step 4
Insert attachment fasteners through the swivel base and through the blocking or plywood. Typically the fasteners will be bolts, washers and nuts. Tighten the nuts in place using a wrench. Unscrew the legs.