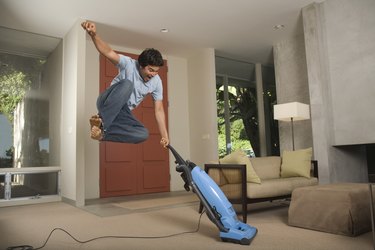 When it comes to keeping your carpets clean, a quality vacuum is extremely valuable. Gone are the days of pushing and pulling heavy, stubborn vacuums. A self-propelled vacuum can save you an enormous amount of effort. Features that make some self-propelled vacuums better than others are ease of use, affordability, portability and suctioning power. If you're in the market for a new vacuum, consider a few top performers among self-propelled vacuums. These models gained high customer review ratings on multiple websites.
Hoover Tempo Widepath U5140-900
The Hoover u5140-900 is an upright self-propelled vacuum that features a 15-inch nozzle, a powerful, 12-amp motor and a five-position height adjustment that works for everything from bare floors to thick carpet. Another valuable feature is the allergen filtration system. When the vacuum sucks in dust and dirt, these items are forced through filters that trap allergens before the air is released. You can wash these filters as well, which adds to their effectiveness and life. The vacuum has additional tools, such as furniture and crevice nozzles. It's easy to maneuver, and the self-propelled function works well. The price makes this model one of the best options for a budget buy, starting at approximately $75.
Hoover UH60010 Bagless
If you want the convenience of a bagless, self-propelled vacuum, the Hoover UH60010 is a mid-range product that functions well. This model, which retails for around $200, features Hoover's patented WindTunnel technology and a HEPA filtering system that traps 99.7 percent of dust and pollen. This vacuum works well for pet owners because it has a pet hair tool that uses rotating brushes to lift pet hair off furniture and stairs. This vacuum is easy to push and maneuver, and it features fingertip controls on the handle.
Hoover Platinum Upright Vacuum Cleaner (UH30010CO)
If you're looking for a self-propelled, higher-end model from the Hoover line of vacuums, check out the Hoover Platinum Upright Vacuum Cleaner (UH30010CO). This vacuum is extremely light, at less than 13 pounds. Its light weight, along with its self-propelling feature, makes it very easy to maneuver. This vacuum comes with a separate canister vacuum for cleaning non-carpet items like cushions and drapes. Some customers like this feature in product reviews, whereas others think that it's a hassle. If you don't like fiddling with extra attachments, then the canister will be a plus for you. This model ranges in price from around $240 to $300.
iRobot Roomba
For the ultimate option in the specific self-propelled feature, the iRobot Roomba offers a quality product. This hands-free, circular robot vacuum runs for approximately two hours once you charge it. The vacuum features a bagless dust bin that is easy to empty. It also has padded bumpers to prevent damage to furniture and walls when it bumps into them. Its filtration system traps allergens, and it has side brushes that pick up dirt from edges and corners. Just press and a button, sit back, and let this vacuum do the work. The price for this item runs around $300.