It's a reliable machine that works through the night and all day long to bring you comfort whenever you need it. The refrigerator is easily one of the hardest working appliances in the kitchen, much less the home. When it decides to take a break, it can be heartbreaking. Rather than replace an otherwise fine-working appliance, it could simply need a new part to get it back on track. A refrigerator capacitor is a fairly simple, small part that can be put in place to get the refrigerator to hum happily once again.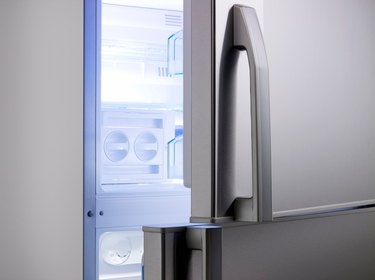 Refrigerator Overload Relay
If the refrigerator is warm or clicks on occasion, the start relay may be the culprit. The protection device that the refrigerator's compressor circuit uses is the overload relay or start relay. The relay overload start capacitor can take out the whole machine if it isn't working properly. The power goes to the compressor through the overload relay part, which is used to add the start winding in the circuit to get the compressor to run. The relay overload start capacitor is easy to change out.
How to Know if the Relay is Bad
Modern parts in appliances, such as the GE refrigerator start relay, tend to plug directly into the compressor. They can be located by first finding the hulking compressor of the appliance. These are typically located in the back and under the refrigerator. If it is a side-by-side refrigerator and freezer, the compressor may be attached to the back. A multimeter can verify that the relay overload is kaput.
Changing Out a Bad Relay
First, unplug the appliance before you move it or get to work. Wear gloves to protect your hands from errant electrical parts. Remove the panel that covers the compressor if there is one. The relay is attached to the compressor with wires. Remove any covers to the start relay. Pull the spool of copper wires away from the relay carefully. Disconnect the old start relay and attach the new one with pliers. Reattach the terminals to keep the start relay safe.
Maintenance Matters & Tips
A refrigerator will run longer and more efficient if the coils are regularly vacuumed and the drip pan removed and cleaned at least every three months. Keep the screws you remove from panels or covers in a bowl as they may be hard to replace. The machine won't run at its full potential without the panel placed properly in its original position.
---
Kimberley McGee is an award-winning journalist with 20+ years of experience writing for a variety of clients, including The New York Times, Las Vegas Review-Journal Home section and other national publications. As a professional writer she has researched, interviewed sources and written about home improvement, interior design and related business trends. She earned a B.A. in Journalism from the University of Nevada, Las Vegas. Her full bio and clips can be viewed at www.vegaswriter.com.