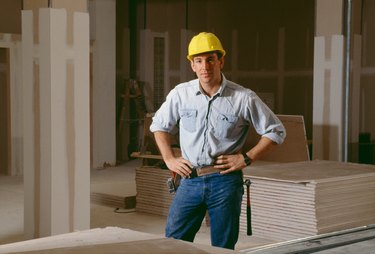 The materials needed to build an addition vary slightly according to how many doors and windows the finished room has, the size of the room and the height of the ceiling, but the basic supplies remain the same. Typical ceilings are 8-foot high, so adjust the materials needed for a higher ceiling.
Lumber
Purchase five sheets of 8-foot by 4-foot plywood for the subfloor. Drywall or paneling is typically used on the walls and ceiling, so plywood isn't needed for those. The exterior walls require 12 sheets of plywood. Eight-foot long 2-inch-by4-inch lumber is used for wall studs. A 12-foot-by-12-foot room requires 28. Buy a few in addition in case you discover flaws in one of the lengths of lumber. The ceiling and floor joists should be 12-foot-long 2-foot by 4-foot lengths. Twenty will do the job.
Drywall
A total of 17, 4-foot-by-8-foot sheets of drywall are needed to cover a 12-foot-by-12-foot room without doors or windows. The number of doors and windows the room has lowers the amount of drywall needed. The walls require 12 sheets. The remaining five are used on the ceiling. About 650 drywall screws are necessary for wall panels installed vertically on 16-inch center. The ceiling panels take about 765 screws. Finishing the walls takes a little more than 200 feet of drywall tape and one pail of joint compound.
Finishes
Finishes include crown molding, paint or wallpaper, switch plates and outlet covers. Plan 3 gallons of primer and 2 gallons of paint for the walls. Plan 1 gallon of ceiling paint. Buy at least two paint rollers and an extension pole for painting the ceiling and various sized brushes for hard to reach areas and edging. Eight rolls of wallpaper suffice if each roll covers 56.4-square feet. A kit containing a roller to work out air bubbles between the paper and the wall and a long tub for soaking the paper comes in handy. Plan on one switch plate for each wall switch and one outlet cover for each outlet.
Flooring
A little more than 16 yards of 12-foot-wide carpet covers a 12-foot-by-12-foot room. Sixty-three 18-inch-by-18-inch ceramic tiles will cover the floor. That number more than doubles to 141 for 12-inch-by-12-inch tiles. A little more than 150 square feet of hardwood or laminate flooring is necessary, allowing for a five percent waste factor. Baseboard molding comes in 12-foot lengths, so four pieces is appropriate for a room with no windows or doors. Adjust your calculations for how much molding you need based on the number of doors and windows in the room. Remember to add 7 to 10 percent to your calculations for waste.
---
Meg Jernigan has been writing for more than 30 years. She specializes in travel, cooking and interior decorating. Her offline credits include copy editing full-length books and creating marketing copy for nonprofit organizations. Jernigan attended George Washington University, majoring in speech and drama.