Whether you are buying a new dishwasher to replace an old one and want a new cabinet or are looking to add another large appliance to your kitchen, building a dishwasher cabinet is a rather painless endeavor that can add space to your kitchen and time to your day.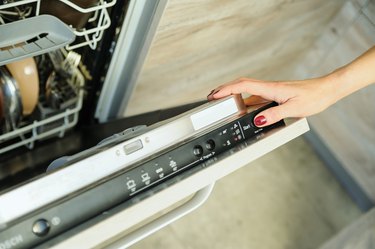 Basic Background
Contemporary dishwashers have several advantages over older models. They are built to use less energy and water and have a larger tub while still maintaining the same, sleek dimensions. The standard size of a dishwasher is roughly 35 inches in height, 24 inches wide and 24 inches deep. They typically hold up to 10 place settings and are relatively easy to install. Many come with legs to adjust the height to make a snug fit. Using these measurements as a guide for building your cabinet, you should be able to find a dishwasher to fit snugly inside.
A compact dishwasher, best for apartments or small needs, is about 18 inches wide, 24 inches deep and 35 inches high and will hold up to eight place settings. Some portable dishwashers are slightly higher at 36 to 37 inches, with the same depth and width as a standard dishwasher. Both are good choices for renters or small families who don't have a large kitchen area.
Best Suited Materials
Wood offers durability as well as affordability when considering what to use to build your dishwasher cabinet. It has a warm, natural beauty that can fit in with modern, farmhouse or minimalist styles. While wood is the favored material for kitchens, melamine and laminate siding, epoxy sheets or resin-treated plywood can also work for this project. You can also buy a pre-made cabinet from large retailers, such as IKEA, and overhaul it to fit the area you need and the dishwasher you hope to purchase. The boards should be at least ¾ inch thick to handle the machine and keep noise down. Buy them two inches larger than the machine. You can tuck felt padding around the sides of the machine to minimize sound once you have finished.
Build It Better
Gather your materials and build the box, with the taller boards creating the sides and the shorter boards creating the foundation and top. Drill through the top board and into the side boards before attaching the base, creating a hollow square. Attach the back board (if desired), cutting holes to accommodate any hoses or electrical cords so that they are free and clear of the cabinet and don't get bunched up, which can cause serious damage to the machine and cabinet. A handsaw should cut through your material easily, but use a drill to cut out holes for thicker or more durable materials, such as epoxy sheets. You can also place the dishwasher on a sturdy drawer to raise it and make it easier to load and unload. A pre-made drawer from Lowe's or Home Depot can be a quick addition.
Gussy Up Your Cabinet
A freestanding cabinet can offer you some mobility. You can place the dishwasher cabinet against a wall or use it as an island in your kitchen. Sand it and paint it or add decals to resin-treated plywood to give the cabinet a touch of your own style.
Once built, you now have a perfect place to prep food or to extend your counter space with a surface for small appliances to be easily accessible. You can get a section of countertop from a big box home improvement store to give your dishwasher cabinet a fine finish.