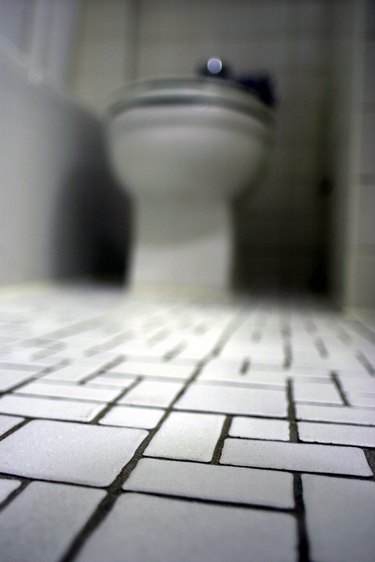 Porcelain tile floors are made from very fine particles of clay and minerals and fired at high temperatures, resulting in a dense, water-resistant material. Porcelain tiles are sealed and don't require waxing to maintain their beauty. However, if you choose to wax your floor, consult your flooring manufacturer for a wax safe for your floors.
Type
To wax tile floors, use a paste or liquid wax labeled for use on tile floors. These waxes typically contain urethane or an acrylic and leave a hard, protective sheen on the floor. To wax the floor, apply the wax with an old T-shirt or a lamb's wool applicator. Allow the wax to dry until it is hard. Buff the floor by hand or use a buffing machine to create a shiny finish and reduce slipperiness.
Drawbacks
Porcelain tile floors may have a smooth, glossy or textured finish, and, in general, they are easy to care for. Waxing them adds substantially to maintenance tasks, because the wax must be buffed at least once per month and must be stripped and reapplied two or three times per year. Wax may become yellow or cracked over time.
Alternatives
Originally, waxes provided a protective coating to unsealed wood or stone floors, but modern penetrating sealers have largely replaced waxes. Apply a sealer once a year to the porcelain tile. Sealers prevent stains and water damage, with less maintenance than wax.
General Recommendations
With a little care, your porcelain tile will retain its shiny, new appearance for many years, regardless of whether you wax it or not. Sweep or vacuum the floor at least weekly to remove dirt and sand that might scratch the floor. Use a vacuum attachment, rather than the beater brush, which could damage the floor. Wipe up spills promptly and mop with a damp mop and a gentle cleaner when needed. Avoid harsh, abrasive cleansers or acidic formulas. Bleach and vinegar may yellow tile when used repeatedly.
---
Julie Christensen is a food writer, caterer, and mom-chef. She's the creator of MarmaladeMom.org, dedicated to family fun and delicious food, and released a book titled "More Than Pot Roast: Fast, Fresh Slow Cooker Recipes."